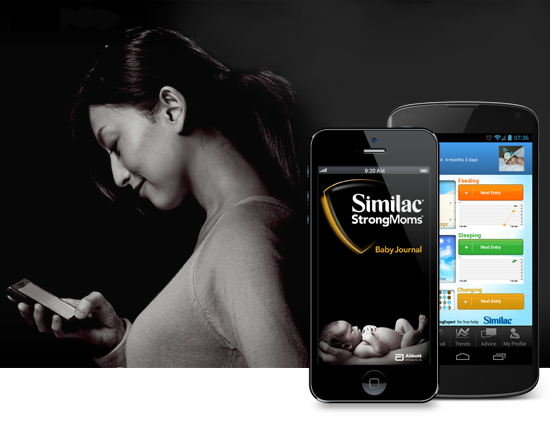 Add a little more predictability to your life.
Download the free Similac® Baby Journal app*
With the free Similac Baby Journal app, you can easily track your baby's eating and sleeping habits, diaper changes, and more. Click below to get our FREE app now:


The Baby Journal app features helpful tools for breastfeeding, supplementing and formula feeding:

Feeding trends

See feeding duration graphs and important stats, such as average time between feedings, average amounts consumed, average duration, and total bottles.

Feeding journals

Whether you breastfeed or bottle feed, the Baby Journal app makes it easy to track the details. Plus, it can link you to feeding tips and connect you to a live Feeding Expert.

Record the length of each nap

Predict the next nap time and duration, and see at a glance when your baby starts sleeping longer at night.

Record diaper details

Track your baby's diapers for stool color and consistency. Use the mobile version of the Diaper Decoder to be sure everything is OK, or if your doctor should be notified. 

Track key developmental indicators

Keep track of important physical characteristics such as weight, length, and head circumference.




 

Connect with your partner, your doctor, and the experts  


Email journal entries and reports to others.
Access the complete library of Similac® StrongMoms® tips and advice.

Call a live Similac Feeding Expert with the tap of a finger.
Keep learning about your baby's development every week
Get nutrition guidance and feeding help delivered right to your inbox.  

Join Similac® StrongMoms® now.   

---