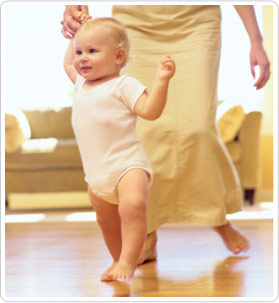 My 10-month-old baby: Handling baby's new emotions and abilities
Your 10-month-old baby might be interacting with people and showing off her new skills every chance she gets. She also might be feeling and expressing new emotions and abilities. Whether she is vocalizing or walking while holding on to furniture, you can help her deal with her expanding world this month by reciting nursery rhymes, singing songs, and taking her to new places for the first time.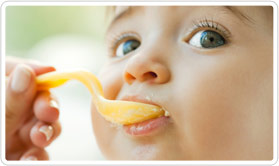 Expanding your 10-month-old baby's food choices as you get closer to the first year
Your baby continues to grow and develop, and needs the right nutrients to maintain her health. If you want to try new foods, here are different types to consider:
Soft pasteurized cheese, yogurt, cottage cheese
Iron-fortified cereals

 

(rice, barley, wheat, oats, mixed cereals)
Fruit cut into cubes or strips, or mashed
Bite-size, soft-cooked vegetables

 

(peas, carrots)
Combo foods

 

(macaroni and cheese, casseroles)
Protein

 

(egg; pureed or finely ground meats, poultry, and boneless fish; tofu; well-cooked and mashed beans)
Finger foods

 

(lightly toasted bread or bagels, small pieces of ripe banana, spiral pasta, teething crackers, low-sugar O-shaped cereal)
Baby separation anxiety at 10 months old
If your baby is still experiencing separation anxiety or a fear of strangers, here are some ways you can help soothe her uncertainty:
Do your best to

 

leave her with people familiar to her.
Introduce her to new people and new situations

 

gradually but carefully.
Try not to leave her when she is

 

tired, hungry, or sick.
Practice separating. Leave her with someone in another room for short periods and, if possible, return when she is calm.
Leave quickly. She will gradually stop crying after you are out of sight.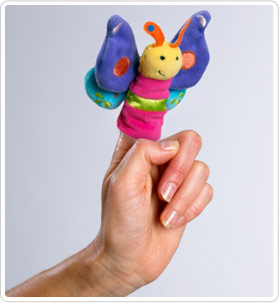 Help build your 10-month-old baby's imagination
It's never too early to inspire the creative parts of your baby's brain. Here are some fun, simple ways to expand her growing mind:
Buy puppets or make them

 

from old mittens or socks by drawing faces on them with marking pens. Make the puppet "talk" to your baby and encourage her to talk back.
Cut out pictures of things

 

such as toys, animals, and other familiar objects from magazines, and paste them in a scrapbook. Help your baby point to the pictures as you name them.
Sing familiar songs and read nursery rhymes.


10-month-old
baby developmental milestones
Every baby grows and learns at a different pace, but by the end of your baby's 10th month, she will likely be able to do the following:
Walk with you while holding hands
Say "mama" and "dada" and know what they mean
Stand while holding on to someone or something
Protest if you take a toy away
Play hand games and wave bye-bye
Keep learning about your baby's development every week
Get nutrition guidance and feeding help delivered right to your inbox.
Join Similac® StrongMoms® now.
---