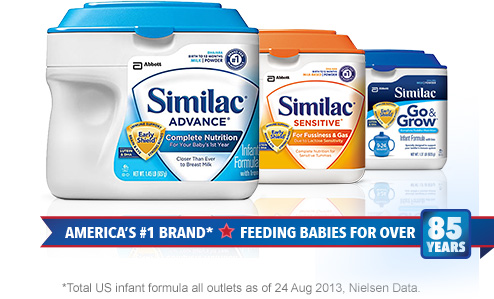 America's #1 Brand*, Feeding Babies for Over 85 Years
Generations of moms have put their
trust in Similac®
Similac standards of quality
When it comes to the science of nutrition, Similac stands apart. Our formulas have been developed with leading scientists and more than 280 clinical studies. We hold ourselves to a high standard when it comes to infant nutrition, and we continue to develop products and innovations intended to help you give your baby a strong start.
A history of innovation
For more than 85 years, the makers of Similac have been dedicated to giving moms and babies a strong start.
Learn about our history
Benefits of EarlyShield®
Similac® baby formulas are designed to be more like breast milk and help support your baby's developing immune system. And Similac baby formulas with EarlyShield have immune-supporting nucleotides — and prebiotics and carotenoids, nutrients naturally found in breast milk. In addition to having DHA/ARA, Similac has Lutein, an important nutrient babies can get from breast milk and Similac. It's especially helpful now, during this critical time of your baby's brain and eye development.
Learn more
Convenient liquid feeding
Similac liquid formula is the most convenient way to make The Perfect Bottle™. With Similac Ready To Feed, you can respond to your baby's feeding needs at a moment's notice.
Learn more
Similac® SimplePac®
Our revolutionary container, which has features designed to streamline bottle preparation, helps you prepare the right bottle, right when you need it.
Take a video tour
Keep learning about your baby's development every week
Get nutrition guidance and feeding help delivered right to your inbox.
Join Similac® StrongMoms® now.
Your Similac StrongMoms membership is free, and includes:
Expert nutrition guidance for your pregnancy
Weekly updates on how your baby is developing and growing
Up to $329† in membership benefits