Similac® with OptiGRO™ — our unique blend of DHA, Lutein, and Vitamin E
Supports baby's developing brain and eyes

Nutrition beyond DHA alone – from America's #1 Brand*
With the benefits of OptiGRO working for your baby, you'll see
why choosing Similac—and staying with it—has never been more
important.
OptiGRO is available in most Similac formulas.
See the benefits of Similac Advance with OptiGRO.
Learn More 
Check out our Frequently Asked Questions 
*Total US infant formula share leader all outlets as of 7/26/14, Nielsen data.
OptiGRO is getting a new look!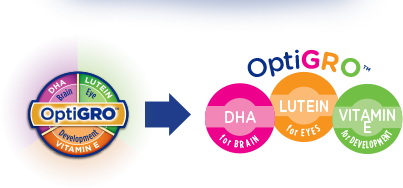 You know he'll be asleep by the second verse
That she'll wiggle when she wants to be picked up
You know that sound means she's getting hungry
Because you're in tune with your baby
And now you know, new Similac Advance with OptiGRO has our unique blend of DHA, Lutein and Vitamin E
And it's closer to the nourishing power of breastmilk than ever before (*Reformulated to better match the average caloric density of breast milk; available in most Similac formulas)
Introducing OptiGRO from Similac
Knowing means growing

Nearly 100 years and 280 clinical studies have nourished our most advanced formulas

Keep learning about your baby's development every week
Get nutrition guidance and feeding help delivered right to your inbox.  

Join Similac® StrongMoms® now.   

---