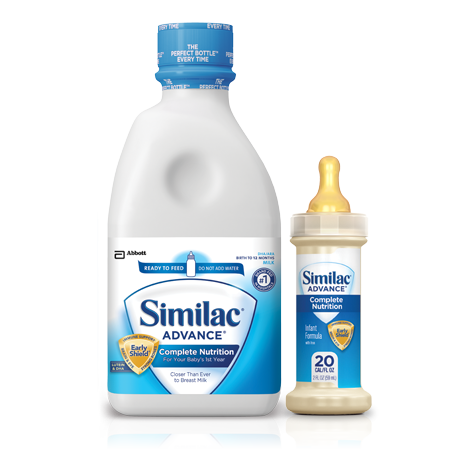 Similac®
 

liquid formula

Get proper nutrition for your baby, right when you need it.
Convenience and nutrition combined
Similac Ready To Feed liquid formula is the most convenient way to make The Perfect Bottle™ and to feed your baby at a moment's notice
Similac Ready To Feed: the ultimate convenience
Similac Advance Ready To Feed formula is good to use around the clock for your baby's scheduled — and unscheduled — feedings.
It is a liquid formula, so you can use it right away.
No powder mixing or measuring — get The Perfect Bottle every time.
Clump-free and fewer bubbles, so it is easier on your baby's stomach
Stay prepared:
Keep a 2-fl-oz nipple-ready bottle on the nightstand for those late-night wake-up calls.
Throw an 8-fl-oz nipple-ready bottle in your diaper bag for on-the-go feedings.
A 32-fl-oz bottle helps caretakers and babysitters feed your baby easily and safely.
Learn more about preparing Similac Ready To Feed. Visit Formula Prep and Storage.
With The Perfect Bottle™, you can be sure your baby gets the same nutrition every time, no matter where you are.
Keep learning about your baby's development every week
Get nutrition guidance and feeding help delivered right to your inbox.
Join Similac® StrongMoms® now.
---