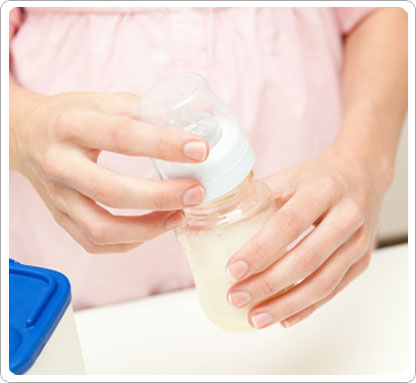 Choosing and using baby formula
A guide for moms getting started with baby formula
Your baby and your lifestyle will help lead the way to formula feeding
The American Academy of Pediatrics recommends exclusively breastfeeding for about the first six months of your baby's life; breastfeeding in combination with feeding solid foods through at least month 12; and continued breastfeeding thereafter, for as long as mutually desired by mother and baby.
However, at some point during your baby's 1st year, you might decide to begin formula feeding. Making the best baby formula choice can depend on several factors, such as your baby's developmental needs, the presence of allergies, whether your baby has any specific feeding concerns, or whether your baby was born preterm. To choose the best baby formula for your baby, compare baby formula brands and talk with your pediatrician.
Once you have made your selection, you will choose the form that works best for you: powder or ready to feed. And as long as you are feeding your baby the same formula, you can combine formula varieties — powder for everyday use, for example, and ready to feed for convenience when you are traveling with your baby.