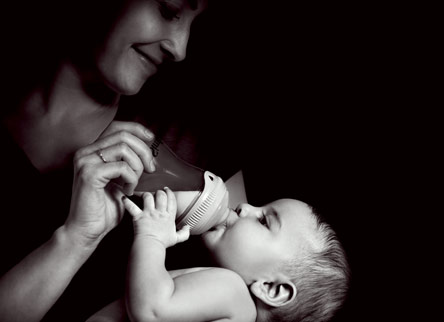 If you choose to introduce formula
Guides for moms who breastfeed
At some point, you might decide to supplement your breast milk with baby formula. Whether you are planning a return to work or experiencing problems pumping, the following guides will help you learn how and when to supplement properly.



Introducing your baby to the bottle

Getting your baby to take a bottle might take a little work. Here are some ways that might help make it easier.




How formula supplementing affects your baby

You might notice several differences in how your baby eats after you begin supplementing breast milk with formula. Learn what to expect and how to manage the changes.




For breastfeeding moms who choose to introduce formula

Similac® For Supplementation has prebiotics for digestive health and helps provide a gentle introduction to formula.




Supplementing: Is your baby eating enough?

Once you start supplementing breast milk with formula, it can be tough to tell when your baby has eaten enough. This guide can help you keep track.




Have a mobile device?

Download the free Similac® Baby Journal app* to keep track of your baby's feedings, diaper changes, sleep patterns, and more.

*Available for all Apple iOS and Android™ devices.
iPhone, iPad and iPod touch are registered trademarks of Apple Inc. Android is a trademark of Google Inc.




New mom? Join Similac®StrongMoms®

Receive nutrition guidance and feeding help, plus enjoy up to $329* in membership benefits.

*Offers may vary.
Keep learning about your baby's development every week
Get nutrition guidance and feeding help delivered right to your inbox.
Join Similac® StrongMoms® now.
---