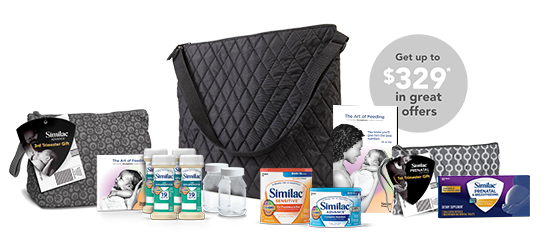 Receive nutrition guidance and feeding help for every week of your pregnancy all the way through your baby's first year. Plus, enjoy up to $329* in benefits.
Join Today — your membership is free, the offers start now

*Offers may vary.

Get up to $329* in benefits.
Free photo book from the Shutterfly® Storytelling™ Collection,† a $35 Value

Capture your baby's first moments.
This offer is delivered via email.

Similac

®

 First Trimester OB Gift

Vitamins and our exclusive Art of Eating guide to help you get started in your pregnancy.

Available at participating OB offices.

Similac

®

 Third Trimester OB Gift

Breastfeeding resources, including our exclusive Art of Feeding guide, breast milk storage bottles, and more.

Available at participating OB offices.

Free Similac Messenger Bag

‡

Pack all of your baby's essentials in one
handy, portable messenger bag. Plus, it
comes filled with free samples and offers.
Ask for it at the hospital.

*Offers may vary.
†Offer is good for one free 20-page 8x8 hard photo cover photo book through shutterfly.com or the Shutterfly Photo Story app for iPad. Offer cannot be redeemed more than once per account and/or billing/household address. Taxes, shipping, and handling will apply. Customer may add options to their 8x8 book (additional pages, cover options, layflat pages, memorabilia pockets, etc.) at additional cost. Alternatively, customer may apply the current price of a 20-page 8x8 hard photo cover photo book (after taking into account any current discounts on shutterfly.com) toward the purchase of any larger photo book. Not valid on 5x7, 7x9, 8x8, or 8x11 soft cover photo books, prepaid plans, other products, prior purchases, purchases made on the Shutterfly iPhone, iPad, and Android apps or Shutterfly Pro Galleries. Valid for the intended recipient only. Cannot be redeemed for cash or combined with other offers or credits. Not valid for resale.

‡Available at participating hospitals.
Shutterfly® and Storytelling™ Collection are not registered trademarks of Abbott Laboratories.

Coupons for Similac

®

 Formula

Get savings delivered right to your mailbox.

Free Formula

Get Similac® samples sent right to you.