STAGE 1
For your baby's first year

Similac Advance Stage 1 is designed to be closer than ever to breast milk*, and has OptiGRO™ to support your baby's brain
and eye development.
*
Reformulated to better match the average caloric density of breast milk; available in most Similac formulas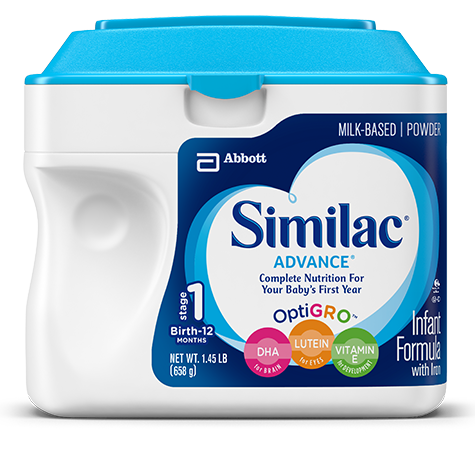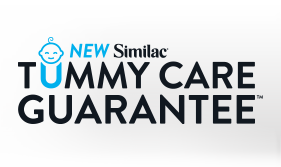 Parents know that every tiny tummy is unique.
So if your baby's tummy doesn't agree with a Similac product,
you can try another one FREE*
*Refund of purchase price (excluding taxes and shipping) on select products
only. Limit 2 refunds per household. Must redeem within 30 days of purchasing
alternative formula.


Similac has OptiGRO™
OptiGRO is our unique blend of DHA, Lutein, and Vitamin E;
these important ingredients are found in breast milk.
DHA   for brain and eye development

Lutein   to support eye health

Vitamin E   an important nutrient found in breast milk to support developing cells
OptiGRO is available in most Similac formulas.
OptiGRO is getting a new look, too!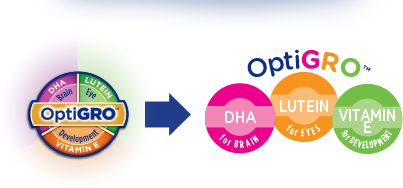 Formula types
Powder formula
Just add powder formula to water and mix.
Rated

4.9

out of

5

 by

371

reviewers.
Rated

5

out of

5
 by
SageMomma27
Great!!!!
I love similac so much. I had tried breastfeeding my daughter but wasn't able too. So we began to give her similac advanced and she has loved it since. I love the the to go bottles for when we are out and about. We use the similac advance quarts because we love that it's just an already made mix, it saves so much time
August 25, 2015
Rated

5

out of

5
 by
WadesMommy15
Did better for my baby then breast milk alone!
I had to start supplementing with formula when my baby was 2 weeks old because he wasn't gaining enough weight with just my breast milk alone. In fact he actually lost weight. I decided to use this formula due to other Moms recommending it and because of the information provided on Similac's website. I had to mix my baby's formula to make it so it was 22 calories instead of 20, so I go through a jar of formula pretty fast. I've never had any trouble mixing it. My baby has had no trouble with it; no gas or discomfort or fussiness. And he was finally able to get back to his birth weight by using this formula and is growing like a weed now.
August 25, 2015
Rated

5

out of

5
 by
stasia
My Daughter
My Daughter started on Neosure and transitioned great to stage one with no issues.
August 31, 2015
Rated

5

out of

5
 by
RedKitten
Expensive!
Love it and my baby hardly ever spits up but man it goes quick and is expensive!
August 31, 2015
Rated

5

out of

5
 by
Laura28
Excellent Product
I have greatly enjoyed using Similac for both of my little ones. It suits them very well and gives them the nutrients they need once they are no longer breastfeeding, plus they love it! Similac also has great deals and I love the coupons they send; it's a great help!!
August 31, 2015
Rated

5

out of

5
 by
netty
I'm sticking to this formula.............
My daughter has been using this formula since she was born. We recently tried switching her to stage 2 of the same kind, but notice a change in her bowel movements and constant spitting one. We switched back to the complete nutrition for ages birth - 12 months and she has been normal ever since.
August 31, 2015
Rated

5

out of

5
 by
Jackie
I love this formula!
Similac Advance, I think, is as close to breast milk as possible! My baby doesn't have gas issues or spit up issues and I feel it does her little body good. I high recommend this formula to everyone! Also I love how Similac provides money off. It definitely helps and it gives you rewards when you use them.
August 31, 2015