STAGE 1
For your baby's first year

Similac Advance Stage 1 is designed to be closer than ever to breast milk*, and has OptiGRO™ to support your baby's brain
and eye development.
*
Reformulated to better match the average caloric density of breast milk; available in most Similac formulas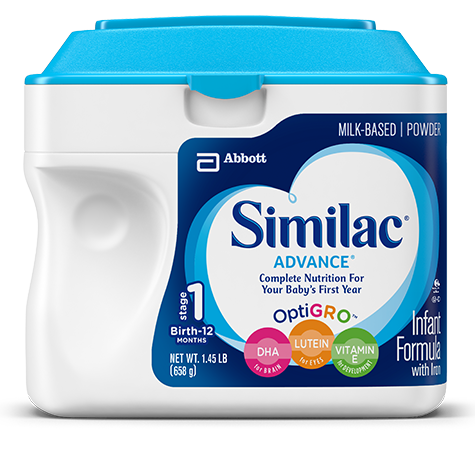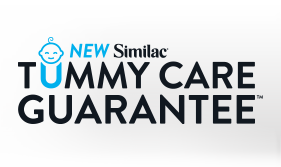 Parents know that every tiny tummy is unique.
So if your baby's tummy doesn't agree with a Similac product,
you can try another one FREE*
*Refund of purchase price (excluding taxes and shipping) on select products
only. Limit 2 refunds per household. Must redeem within 30 days of purchasing
alternative formula.


Similac has OptiGRO™
OptiGRO is our unique blend of DHA, Lutein, and Vitamin E;
these important ingredients are found in breast milk.
DHA   for brain and eye development

Lutein   to support eye health

Vitamin E   an important nutrient found in breast milk to support developing cells
OptiGRO is available in most Similac formulas.
OptiGRO is getting a new look, too!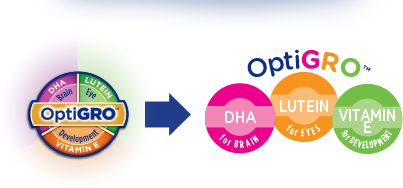 Formula types
Powder formula
Just add powder formula to water and mix.
Rated

4.9

out of

5

 by

402

reviewers.
Rated

5

out of

5
 by
Ty22
I love it !
Switching from breastfeeding to this this formula was the best decision I ever made! My son loves it. We use the ready to feed version.
November 19, 2015
Rated

5

out of

5
 by
Hickman1980
Love similac
My daughter was born 6/25/15 she was started in Enfamil. It made her very gassy and fussy. So we switched to similac and is been awesome. We applied for WIC to help with formula but they only covers Enfamil so we chose to purchase similac ourselves..makes my sweet baby girl very happy!
November 9, 2015
Rated

5

out of

5
 by
chewy
This product has great nutrients
I wasnt used to this formula, but after wic forced it i loved it. Never had any problems with it.
November 6, 2015
Rated

5

out of

5
 by
karinaf10
Best milk product for babies!
The best and smartest decision to choose Similac to help my first baby grow! As a first time mother, Similac has made feeding my baby easier and healthier! Thank you!
October 28, 2015
Rated

5

out of

5
 by
Imstax82
Great for use after supplementation.
We used this formula from 3 weeks of age to 1 year when we started our LO on milk. She would spit up on every formula except this one and was never gassy. We had a great experience.
October 14, 2015
Rated

5

out of

5
 by
Kiran
No Problem... Digests well
We are giving this Similac Advance from last 6 months right from the Day 1. Similac powder dissolves in water very well. Till now didnt face any problem (Constipation/Gas/Allergy/Vomiting/reluctance etc). Looks like this digest well. And happy to say my kid is healthier, having good weight, height. So obviously i think that this Similac advance which is the only food source for my kid makes him healthy. I didn't try any other Similac/Other brand variety in last 6 months. Thank you Similac
October 10, 2015
Rated

5

out of

5
 by
Morgan
I over this product
I love this formula and my daughter loves it!
October 6, 2015
Rated

5

out of

5
 by
Angela
perfect for my baby
My baby loves it He is so healthy I would recommend it to anyone
October 4, 2015