Similac Expert Care®Alimentum®
For food allergies and colic due to protein sensitivity
While sensitivity to the protein in both milk-based and soy-based baby formulas is uncommon, it's good to know there is a trusted alternative. If your baby's digestive system is especially sensitive and requires an extra-gentle baby formula, ask your physician about Similac Expert Care Alimentum Hypoallergenic Formula.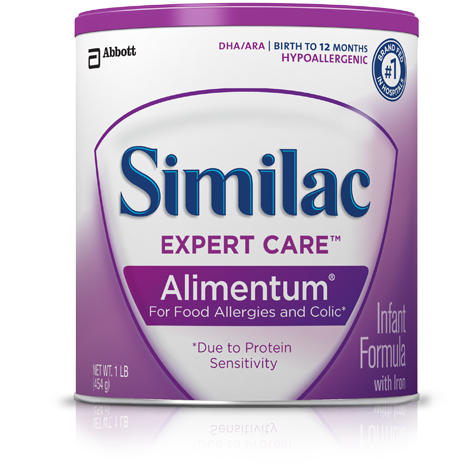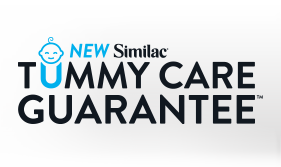 Parents know that every tiny tummy is unique.
So if your baby's tummy doesn't agree with a Similac product,
you can try another one FREE*
*Refund of purchase price (excluding taxes and shipping) on select products
only. Limit 2 refunds per household. Must redeem within 30 days of purchasing
alternative formula.


Signs of protein sensitivity

Some babies have long crying spells and cannot be easily comforted. This excessive crying or fussiness
is sometimes called colic, and might be due to
protein sensitivity. Other symptoms such as severe diarrhea, rashes, and even sleeping problems also
can be caused by protein sensitivity.

* Based on a clinical study with Similac Expert Care Alimentum Ready To Feed without DHA and ARA in a small group of infants experiencing colic symptoms due to cow's-milk-protein sensitivity. Data on file, AC84, August 2004. Abbott Nutrition, Columbus, Ohio

Starts to reduce colic symptoms due to protein sensitivity in most infants in just 24 hours*

Similac Expert Care Alimentum is easy for sensitive babies to digest, and its protein is broken down into tiny pieces to virtually eliminate allergic reactions in most babies who are allergic to cow's-milk protein.

If your baby's digestive system is especially sensitive and requires an extra-gentle baby formula, ask your physician about Similac Expert Care Alimentum Hypoallergenic Baby Formula.
Formula types
Powder formula
Just add powder formula to water and mix.
Keep learning about your baby's development every week
Get nutrition guidance and feeding help delivered right to your inbox.  

Join Similac® StrongMoms® now.   

---
Rated

4.9

out of

5

 by

8

reviewers.
Rated

5

out of

5
 by
JenK
The next best thing to breastmilk and worth every penny!
I pumped exclusively for my son through 11 months and upon beginning to introduce milk into his diet with breast milk for the last month, he developed a severe reaction due to what we believe to be a milk allergy, that led to a severe bacterial infection. He was hospitalized for 6 days and by that point my breastmilk supply was nearly depleted. This formula is the only one that he was able to tolerate and he seems to prefer it more than he ever did the breastmilk! The staff at Similac was so incredible about sending me a few coupons and also a sample to help with the cost. I am thankful that we have this product and even though it is one of the most expensive formulas there is, it has helped my son to bounce back completely and continue to grow and thrive!
July 30, 2015
Rated

5

out of

5
 by
JKelly
It is finally quiet!!!
Our twins had horrible "colic". They would scream all night and all day. Our pediatrician switched them to this formula and within a day and a half they became totally different babies!! They still cry from time to time, but never the screams that they had before!! We are so thankful and our ears have finally stopped ringing! This stuff isn't just liquid gold, it is liquid sanity!!!!!!!!!
July 20, 2015
Rated

4

out of

5
 by
Llnz84
Works well but the cost is extremely frustrating
I am trying to find some information on if there are any programs with similac that will help with the cost of the formula. While the formula certainly has helped, the cost is very frustrating Thanks!
July 8, 2015
Rated

5

out of

5
 by
JonesFamilyEst1994
HALLELUJAH!!!
My very fussy, almost unbearable baby boy went to a wonderful smiling little fellow. We tried a lot of formula's and even tried a different brand of hypoallergenic but it was until we went to Alimentum ready to feed that we saw an actual improvement and change. I would highly recommend this formula if you think your baby may have a protein intolerance
July 5, 2015
Rated

5

out of

5
 by
Sandy64564
This formula is a GAME CHANGER!
We had an extremely fussy baby that wouldn't sleep for more than 30 minutes at a time. And he constantly had a look of struggle on his face - it was terrible. He still ate a ton, and was putting on weight, so the doctor thought he was just very colicky. He had us bring in a diaper to test, just in case he had the uncommon milk protein allergy. We got a call that afternoon, and he did in fact have the allergy. We were told to switch to the Alimentum immediately. By the next morning we had a completely different baby. He slept 6 hours the next night, and only cried when he was hungry or needed a change. We have been using the formula for a week now and our little one month old is sleeping regularly (and so are we) and he is as happy as can be! The only down side to this formula is the terrible smelling diapers, but the pediatrician told us to expect that. And it is a small price to pay to have a happy and healthy baby! The formula is a little more expensive, but our doctors office said insurance would pay for it if they wrote a prescription.
July 5, 2015
Rated

5

out of

5
 by
AW31
Best Formula for Milk Protein Allergy!
I tried this after we learned my daughter had a milk protein allergy. I was unreal what a positive difference this made! She went from a fussy, not sleeping baby to a normal happy one! It's expensive, but totally worth it!
June 25, 2015
Rated

5

out of

5
 by
Dvis25
Whole new baby!
I had a colic baby who just cried and fussed all the time and always seemed to struggle with gas. We tried several different formulas and some seemed to help for a few days but then we went right back to the crying and fussing all day and night. Our pediatrician recommended Alimentum and since switching I have a whole new baby. He went from such a fussy miserable baby to one of the happiest smiliest babies I have ever seen. It has been amazing I would highly recommend trying it!
June 24, 2015
Rated

5

out of

5
 by
VanessaC
Worked for my baby
Helped my baby with bad colics and constipation as well as acid reflex , I had tried other formulas before this one and Alimentum worked well baby was happy and so was I .
June 22, 2015