Similac Expert Care®Alimentum®
For food allergies and colic due to protein sensitivity
While sensitivity to the protein in both milk-based and soy-based baby formulas is uncommon, it's good to know there is a trusted alternative. If your baby's digestive system is especially sensitive and requires an extra-gentle baby formula, ask your physician about Similac Expert Care Alimentum Hypoallergenic Formula.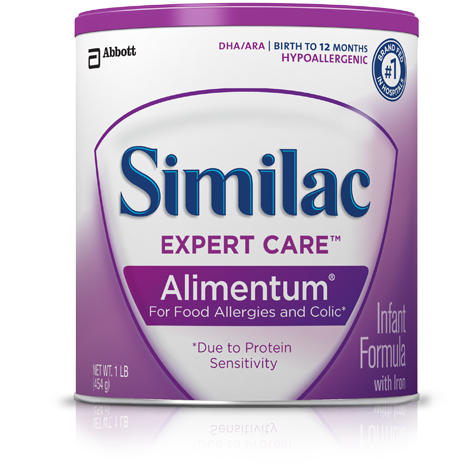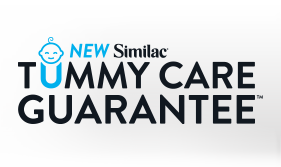 Parents know that every tiny tummy is unique.
So if your baby's tummy doesn't agree with a Similac product,
you can try another one FREE*
*Refund of purchase price (excluding taxes and shipping) on select products
only. Limit 2 refunds per household. Must redeem within 30 days of purchasing
alternative formula.


Signs of protein sensitivity

Some babies have long crying spells and cannot be easily comforted. This excessive crying or fussiness
is sometimes called colic, and might be due to
protein sensitivity. Other symptoms such as severe diarrhea, rashes, and even sleeping problems also
can be caused by protein sensitivity.

* Based on a clinical study with Similac Expert Care Alimentum Ready To Feed without DHA and ARA in a small group of infants experiencing colic symptoms due to cow's-milk-protein sensitivity. Data on file, AC84, August 2004. Abbott Nutrition, Columbus, Ohio

Starts to reduce colic symptoms due to protein sensitivity in most infants in just 24 hours*

Similac Expert Care Alimentum is easy for sensitive babies to digest, and its protein is broken down into tiny pieces to virtually eliminate allergic reactions in most babies who are allergic to cow's-milk protein.

If your baby's digestive system is especially sensitive and requires an extra-gentle baby formula, ask your physician about Similac Expert Care Alimentum Hypoallergenic Baby Formula.
Formula types
Powder formula
Just add powder formula to water and mix.
Keep learning about your baby's development every week
Get nutrition guidance and feeding help delivered right to your inbox.  

Join Similac® StrongMoms® now.   

---
Rated

4.7

out of

5

 by

91

reviewers.
Rated

5

out of

5
It works!
My daughter has had pretty bad acid reflux, and we tried several different formula/medication combos - nothing eased her symptoms. Night after night, she would cry for hours, completely inconsolable. Alimentum made an immediate change in her symptoms - it really is like the can says - in 24 hours she was so much better. She is now a bouncing, giggling 7 month old who can sleep through the night. My only complaints re: Alimentum are 1) the small can sizes - she goes through 2 a week! I feel like I'm always having to run out and buy more. I don't buy a lot at once because of 2) the cost. My local stores offer savings and coupons for the big tub formulas, never the cans. My doctor's office sometimes has coupons but it's still so, so expensive. And 3) the cans are not user-friendly. My son (they're twins) is on Total Comfort and the tub is such an improvement - the leveling corner, digging out the scoop doesn't cause product loss, and NO STICKING. Even with the can always closed, the humidity here makes the powder stick to the side of the can, and I can't always scrape it all off. Going back to 2, with the cost, I hate wasting it. Bottom line - it is worth it when
September 2, 2015
Rated

5

out of

5
 by
Angelic
AMAZING!!
my daughter is severely sensitive to milk and was very colic. This was a life saver for us. She can only use the pre-made liquid but we plan on introducing her to the powder soon. Totally worth the extra few dollars. My baby is so much happier and I can tell she is no longer in pain.
August 30, 2015
Rated

5

out of

5
 by
Leigh5
Life Saver
When my son was born I breast fed him, but no matter what I did he would start to cry 15 minutes after eating and would cry and eventually scream for 45 minutes until he fell asleep. I removed all dairy from my diet as suggested by the dr, but no luck. We tried liquid zantac and sensitive formula and still had no luck. The dr then suggested Alimentum and eureka, we now have a happy baby. I don't know what his issue is exactly, but Alimentum has proven to be the only formula for him. God Bless you Similac, you made eating a pleasant experience for my baby, the immediate difference at that first bottle was amazing.
August 29, 2015
Rated

5

out of

5
 by
Cara
This product helped us greatly!
When my son was born he was having issues passing gas and would cry in pain before and after. There was no relief for him. Everyone told me that was normal but my pediatrician finally listened and put him on similac sensitive. He was still having issues so we tried a different brand of formula and that caused him many more issues on top of having issues passing gas. So my pediatrician recommended we try similac alimentum. Within two days I had a whole new baby. I had never realized how long my son was because he was constantly rolled up in a ball from his stomach pains. He's now a happy relaxed baby. Only two complaints I have is the price of it. Its expensive and my son goes through a 1lb can in four days. Second complaint I have is the only size available in stores is the 1lb can. I'd like to be able to buy more at one time and the small 2 oz ready to use bottles would be nice to have. Otherwise I'm completely happy with this product!
August 29, 2015
Rated

4

out of

5
 by
sassy1
soothing
After trying many formulas, including Alimentum, I've gone back to Alimentum. Though quite expensive, it seems to be the only formula my baby can tolerate.
August 28, 2015
Rated

4

out of

5
 by
JandAmommy
finally
Finally a formula that doesn't upset my LO's tummy. Just hate that it costs so much. Thankful for the coupons Similac sends out!
August 28, 2015
Rated

5

out of

5
 by
eve28
Love it.
good product, my daughter had colic and did not tolerate other milks, alimentrum helped to gain weight much durints 7 months, I totally recommend
August 28, 2015
Rated

3

out of

5
 by
Bwife
It's ok.
Our daughter was allergic to breastmilk and neo sure. So our pediatrian gave us a sample and we tried alimentum. It fixed all our problems. The only thing I wish was it was available in bigger cans. You go through it fast. We are now on 1/2 breastmilk and 1/2 formula. Yahoo!! Helps with cost.
August 28, 2015