Similac Expert Care®Alimentum®
For food allergies and colic due to protein sensitivity
While sensitivity to the protein in both milk-based and soy-based baby formulas is uncommon, it's good to know there is a trusted alternative. If your baby's digestive system is especially sensitive and requires an extra-gentle baby formula, ask your physician about Similac Expert Care Alimentum Hypoallergenic Formula.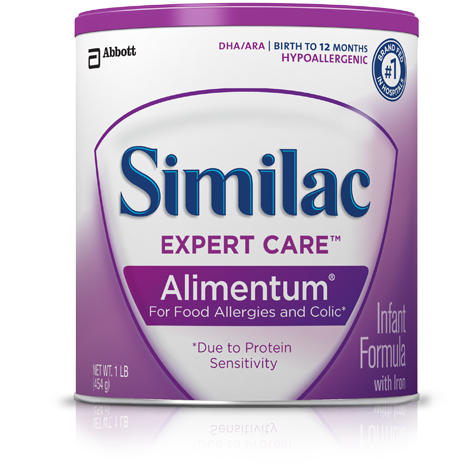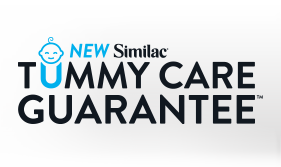 Parents know that every tiny tummy is unique.
So if your baby's tummy doesn't agree with a Similac product,
you can try another one FREE*
*Refund of purchase price (excluding taxes and shipping) on select products
only. Limit 2 refunds per household. Must redeem within 30 days of purchasing
alternative formula.


Signs of protein sensitivity

Some babies have long crying spells and cannot be easily comforted. This excessive crying or fussiness
is sometimes called colic, and might be due to
protein sensitivity. Other symptoms such as severe diarrhea, rashes, and even sleeping problems also
can be caused by protein sensitivity.

* Based on a clinical study with Similac Expert Care Alimentum Ready To Feed without DHA and ARA in a small group of infants experiencing colic symptoms due to cow's-milk-protein sensitivity. Data on file, AC84, August 2004. Abbott Nutrition, Columbus, Ohio

Starts to reduce colic symptoms due to protein sensitivity in most infants in just 24 hours*

Similac Expert Care Alimentum is easy for sensitive babies to digest, and its protein is broken down into tiny pieces to virtually eliminate allergic reactions in most babies who are allergic to cow's-milk protein.

If your baby's digestive system is especially sensitive and requires an extra-gentle baby formula, ask your physician about Similac Expert Care Alimentum Hypoallergenic Baby Formula.
Formula types
Powder formula
Just add powder formula to water and mix.
Keep learning about your baby's development every week
Get nutrition guidance and feeding help delivered right to your inbox.  

Join Similac® StrongMoms® now.   

---
Rated

4.7

out of

5

 by

108

reviewers.
Rated

4

out of

5
Great helper! We are so thankful!
My baby son Mark started diarrhea at 7 weeks and we came to the pediatricians for a couple of times to nail down the problem is dairy intolerance (milk protein allergy). We tried Neutramigen (from Enfamil) first, which was given by the pediatrician as advertising samples in powder form, but the flavor is so weird that the baby hardly drink. It did not stop the diarrhea significantly neither. Then we tried the premixed fomular of Alimentum (since we heard premixed is giving a faster impact than the powder and taste better due to the powdering technology worsening the flavor). And to our surprise, Alimentum works really well instantly that following day. Our whole family cheers with wine! We were so worried and anxious about Mark's continuous diarrhea and now it stopped! Mark started to gaining weight instead of loosing weight after using the premixed Alimentum. We are so happy that Similac (the Abbott) got Alimentum out on the market. So thankful! The one star I am taking back is because the flavor still need to be improved...And it's quite expensive, we at least use one bottle up per day, not receiving any coupon yet. Hope there could be a reward system like the diapers. Then we could have already won a giant bear or something... Well, sure we need to pay for the special conditions. Appreciated, anyway!
September 30, 2015
Rated

5

out of

5
 by
mari4u
Fast results
No complaints just maybe the price. Does Similac ever offer coupons or free samples?
September 28, 2015
Rated

4

out of

5
 by
Kelliab123
Great Formula, but too pricey!
My husband and I tried several other formulas before we found Similac's Alimentum. The other formula's did not sit well with our son's tummy and made him break out. The Dr. pointed us to Alimentum, and now are son is a happy boy with a healthy tummy. The only reason I am not giving this 5 stars is the price at about $30. Since we go through at least one can a week, the cost really adds up. Otherwise, we love the product and thank Similac for making such a great formula.
September 23, 2015
Rated

3

out of

5
 by
Jill
Very goood
Worked well for my baby after trying other things.
September 23, 2015
Rated

5

out of

5
 by
happygrandmaof1
Great product
my grand son was screaming for hours on end my daughter is a first time mom and was having a very difficult time with all his crying and we needed to find an answer soon as she has to return to work soon .Within 48 hours of me researching formulas and purchasing this one he is a totally different baby . He is now smiling ,laughing and his eyes are no longer filling with goop .This formula is wonderful
September 22, 2015
Rated

4

out of

5
 by
lipruitt
best product by far
I reserved the last star because of the price. My husband and I make great money (not WIC qualified) but cannot afford to spend $320+ on formula a month for our 14 week old. Our story: baby had to be supplemented with similac regular formula from week 2 because I was not producing how much he wanted to eat and still can't (he wanted about 3oz in the first week each feeding and after 7weeks old wanted around 6 oz#. Over the next few weeks, baby was having bloody diapers with forest green poo and mucus. Our pediatrician diagnosed him with a milk allergy and told us to stop breastfeeding and go solely Alimentum. This was a shock and I'll admit I only took part of her advice - I went on a dairy free diet and supplemented my EBM with the Alimentum around 7 weeks old. He is now 14 weeks old, a growing by in the 98th percentile height and 50th percentile weight #his parents are over 6 foot) and he is so different now! No bloody poo and back to greenish yellow, very rarely fussy, does not spit up as much during and after feedings, doesn't arch his back in pain, sleeps through the night, and is just overall a very happy baby! Happiness and health should always be priority. Also, just recently found out my BCBS PPO insurance plan covers Alimentum under my prescription benefits and we only have to pay a 45% copay - even better!
September 21, 2015
Rated

5

out of

5
 by
emilee24
Thank GOD
I am so happy with this product. We are finally able to sleep in our house!!!! This formula has changed so much. My little man went from non-sop crying to being such a good happy little guy. We went from 1-2 hrs of straight sleep at night, to 6 hrs straight. No more waking up to his heartbreaking screams from his belly aches. Thank you so much for such a great product.
September 17, 2015
Rated

5

out of

5
 by
Katelyn024
Life and Sanity Saver!
We recently had to switch from breast milk and supplementing with another formula to the Similac Alimentum because my 2 week old daughter has a milk protein allergy, a soy allergy, and silent reflux. Within 24 hours of switching to this formula my daughter went from a colicy baby that would only sleep painfully for 20 minutes at a time, to a content, happy little love that will now sleep 3 hours at a time and does not have the same discomfort from the other formula. This formula has really been a life saver and makes me feel much better about feeding my daughter. The only downfall is it is quite pricey, but you make it work for your little one no matter what the cost. Those certificates for 5.00 really help out a lot though! Thank you so much Similac
September 17, 2015