Similac Expert Care®Alimentum®
For food allergies and colic due to protein sensitivity
While sensitivity to the protein in both milk-based and soy-based baby formulas is uncommon, it's good to know there is a trusted alternative. If your baby's digestive system is especially sensitive and requires an extra-gentle baby formula, ask your physician about Similac Expert Care Alimentum Hypoallergenic Formula.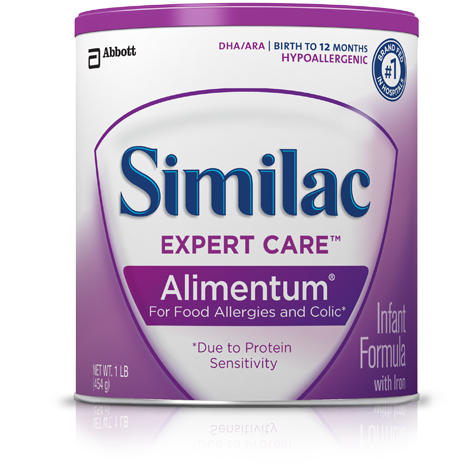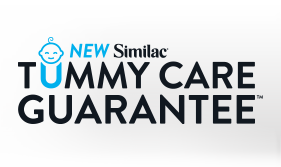 Parents know that every tiny tummy is unique.
So if your baby's tummy doesn't agree with a Similac product,
you can try another one FREE*
*Refund of purchase price (excluding taxes and shipping) on select products
only. Limit 2 refunds per household. Must redeem within 30 days of purchasing
alternative formula.


Signs of protein sensitivity

Some babies have long crying spells and cannot be easily comforted. This excessive crying or fussiness
is sometimes called colic, and might be due to
protein sensitivity. Other symptoms such as severe diarrhea, rashes, and even sleeping problems also
can be caused by protein sensitivity.

* Based on a clinical study with Similac Expert Care Alimentum Ready To Feed without DHA and ARA in a small group of infants experiencing colic symptoms due to cow's-milk-protein sensitivity. Data on file, AC84, August 2004. Abbott Nutrition, Columbus, Ohio

Starts to reduce colic symptoms due to protein sensitivity in most infants in just 24 hours*

Similac Expert Care Alimentum is easy for sensitive babies to digest, and its protein is broken down into tiny pieces to virtually eliminate allergic reactions in most babies who are allergic to cow's-milk protein.

If your baby's digestive system is especially sensitive and requires an extra-gentle baby formula, ask your physician about Similac Expert Care Alimentum Hypoallergenic Baby Formula.
Formula types
Powder formula
Just add powder formula to water and mix.
Keep learning about your baby's development every week
Get nutrition guidance and feeding help delivered right to your inbox.  

Join Similac® StrongMoms® now.   

---
Rated

4.6

out of

5

 by

121

reviewers.
Rated

5

out of

5
 by
Craig
Excellent but expensive
Our little guy was born 5 months ago and has been on Alimentum for 4 of those months. It seems to be the only formula that works for him and we aren't going to try switching anymore. We did that with our older son and it was painful for us and him. Eventually he settled in with Similac Sensitive and that's what we started our youngest on but he needed the Alimentum. Our pediatrician prescribed it and we thought our insurance company would cover the cost, but they denied the claim and said we need to take our son through a battery of allergy tests before they would approve. We are thinking about doing the allergy tests but we don't want to put him through all the skin pricks and other associated tests. We go through 1-1.5 bottles a day and at $11 each, it hurts at the end of the month. We are members of StrongMoms but we only get 1 check per month for $5 when we used to get 3 with our older son. I'm not sure why there was a change, but I wish Similac would go back to the three checks a month.
November 21, 2015
Rated

5

out of

5
 by
MommyofTwo
Worth the Price
Sweet baby was diagnosed with colic to begin with. After going several days in a row of nonstop fussiness and crying, we went back to the pediatrician. Baby has reflux and milk protein allergy. My first child had milk protein allergy as well so this time I wanted to try using Alimentum. Within the first 24hours I noticed a big difference. She still had reflux problems but after about 10 days of being on medication for that, we now have a normal happy baby. My only complaints are that it is very expensive and they don't make a can larger than 1 lb. But I'll pay what I have to see my sweet girl happy and healthy.
November 19, 2015
Rated

5

out of

5
 by
Heather09
Totally helped my baby!!
My pediatrician recommended we switch to this formula because my baby was extremely sad after drinking a bottle of breast milk or regular similac formula because she could be lactose intolerant. After 2-3 days she quit being fussy and now drinks a bottle without crying and is happy all the time. The only bad thing is the cost as it is $30!
November 10, 2015
Rated

5

out of

5
 by
Nikki23
Game Changer
Our little one was constantly fussy and gassy. After being on 3 different formulas our doctor recommended that we try Alimentum. My little one went from being a fussy baby to being happy and content in just 3 days. We always just thought our baby was fussy but what a difference Alimentum has made.
November 9, 2015
Rated

5

out of

5
 by
Bel13
The only Formula That Helped My Baby's Reflux
Worked like a charm. Worth every penny.
November 6, 2015
Rated

5

out of

5
 by
EastonsMama
Great but expensive!
I was lucky enough to have a C-section and my milk didn't come in right away so in turn my son wouldn't latch properly, even after several lactation consultant attempts, so I pumped for 6 weeks until the well went dry. After that he was so fussy and didn't seem to tolerate any formula we tried until we got to Similac Alimentum. The powder helped a little but when we switched to the ready to feed he was a completely different baby! Happy all the time and no more discomfort from feeding! Yay! We got the checks right away but since I was breastfeeding I gave them to other moms that were formula feeding to help them out. Now I get one check here and there but not many and it's very expensive. He loves it and chows down and is growing, but our bank account is doing the opposite of growing. Overall a wonderful product, just wish it was a little more affordable. it's amost $11 per 32oz jug and we go through a little less than 1 per day!
November 5, 2015
Rated

5

out of

5
 by
Martha
Pricey
My son has been on this milk for about three weeks now due his protein sensitivity I noticed he had blood in his stool while drinking enfamil so the dr right away recommend to change formula and I was lucky enough she have me a case of ready to feed I was so happy to take it I really didn't know much of this milk until that moment she explained how expensive the formula was I though to myself ahh it can't be that bad until they day the ready to feed ran out and I had to go buy the stuff myself.... I been looking around for coupons every where for this milk and j can't find anything at all !!!! I still have yet to receive anything from similiac it will be nice to get some type of help... Companies like these need to understand that helping a customer out makes such a big difference. I do have to say Enfamil sent there coupons right away!! It will be nice if similiac will do the same please reconsider your customer especially for a product like this
November 4, 2015
Rated

3

out of

5
 by
mommy1234
Alimentum
I am a resident in Canada and my 4 month old baby has to have the Alimentum formula due to a allergy. His pediatrician has advised me he will be on it until he is one years old . It is very expensive as only the ready made cans are available in Canada and not the powder, and I can not purchase a big case at a time to try and save some money because that is not offered in any store either. It is costing me a fortune to give him what he needs but I have no choice because he will get sick. I have tried the powder Enfamil nutramigen because it comes in a powder and it is more affordable, but he will not eat it. I had my son in July 2015 and since then I have only received one coupon from you with the similac club. Is there anyway you can send me more coupons or somehow I can order a case instead of having to purchase it 4 cans at a time?
November 3, 2015