Similac Expert Care® for Diarrhea
Nutrition for the dietary management of diarrhea
Similac Expert Care for Diarrhea is the first and only soy baby formula developed for the dietary management of diarrhea in infants older than 6 months and toddlers.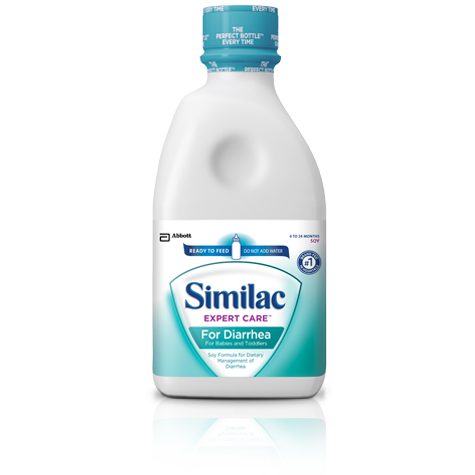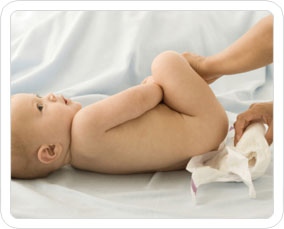 Diarrhea management and nutrition for your baby — all in one
Similac Expert Care for Diarrhea helps reduce diarrhea while giving your baby the nutrition he needs.
It helps reduce the duration of loose, watery stools.
It's also effective for infants and toddlers who experience antibiotic-induced diarrhea.
It provides balanced nutrition, like other Similac

®

 baby formulas.
It is soy-based and lactose-free.
It's kosher.
Baby diarrhea and baby dehydration
Acute diarrhea is usually due to a bacterial or viral infection. Chronic diarrhea might be a sign of intolerance or sensitivities to certain ingredients in foods, such as lactose found in milk-based formulas. Whatever the cause, diarrhea is dangerous in newborns and infants.
Contact your health care provider if your child has any of these symptoms:
Signs of dehydration
Diarrhea for more than 24 hours
A fever of 102°F or higher
Diarrhea causes your baby to lose fluids and electrolytes, leading to dehydration. Dehydration can be especially dangerous for babies, so it's important to restore lost fluids quickly.
Pedialyte®, from the makers of Similac, helps get kids back to normal fast, because it provides a precise balance of electrolytes, carbohydrates, and water to help replace fluid and electrolytes quickly.
Formula types
Ready To Feed formula
Just twist off the cap — no powder mixing or measuring — and the formula is ready for your baby.
Nipple might not be included. See package for details.
Do not feed Similac Expert Care for Diarrhea to infants or toddlers with constipation.
Keep learning about your baby's development every week
Get nutrition guidance and feeding help delivered right to your inbox.  

Join Similac® StrongMoms® now.   

---