Similac Expert Care® NeoSure®
Promotes catch-up growth during your premature baby's first 12 months
Your premature baby might have arrived early, but she's here now and it's an exciting time. At home or in the hospital, your voice, your touch, and your care mean the world to her.
Because she didn't get the full 9 months in the womb, her body is working hard to catch up. Help support her development in the first full year by feeding her Similac Expert Care NeoSure, the #1-selling baby formula for babies who were born prematurely.
Similac Expert Care NeoSure is the only preterm formula with added Lutein for eye and brain development.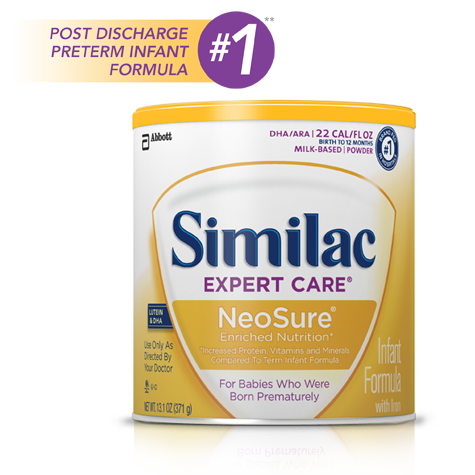 **Source: Nielsen data for years 2010, 2011 and 2012
Specially formulated to support your preemie's development
We know that your premature baby needs special care in her first year — including specialized nutrition.
More research has been published on Similac Expert Care NeoSure than on any other nutrient-enriched, preterm, post-discharge formula.1-4 Studies have shown that premature babies fed Similac Expert Care NeoSure as compared to term infant formula for the first full year showed:
Excellent catch-up growth1
Improved language development*†
Improved visual development*‡
UNIQUE NUTRITIONAL NEEDS OF PREMATURE AND LOW-BIRTH-WEIGHT INFANTS

Your Premature Baby Might Need:

Similac Expert Care NeoSure has:

Extra nutrients to help her catch up, as the 3rd trimester of pregnancy is the period of most rapid growth

35% more protein§ to support tissue building and growth




Higher amounts of vitamins, minerals, and calories than term infant formula to promote growth

Support for eye and brain development, as the majority of this growth takes place in the last eight weeks in the womb

Lutein and DHA for eye and brain development3,5

Immune support to help her immune system grow strong

Nucleotides for immune system support6-8

Nutrients for bone growth because most babies triple their bone density during the first year
Formula types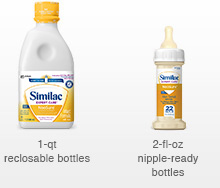 Powder formula
Just add powder formula to water and mix.
Ready To Feed formula
Just twist off the cap — no powder mixing or measuring — and the formula is ready for your baby.
Nipple might not be included. See package for details.
Catch-up Growth Inside and Out
Similac Expert Care NeoSure supports gains in weight, length, and head circumference when compared to term infant formulas.1* The specialized nutrition in NeoSure also helps growth in critical systems you can't see, including her lungs, heart, and digestive system.
1Carver JD, Wu PY, Hall RT, et al. Pediatrics 2001;107:683-689.
2Groh-Wargo S, Jacobs J, Auestad N, et al. Body composition in preterm infants who are fed long-chain polyunsaturated fatty acids: a prospective, randomized, controlled trial. Pediatr Res, 2005; 57: 712-718.
3O'Connor DL, Hall R, Adamkin D et al. Growth and development in preterm infants fed long-chain polyunsaturated fatty acids: a prospective, randomized, controlled trial. Pediatrics, 2001; 108: 359-371.
4Worrell LA, Thorp JW, Tucker R et al. The effects of the introduction of a high-nutrient transitional formula on growth and development of very-low-birth-weight infants. J Perinatol, 2002; 22: 112-119.
5Rubin LP et al. Effect of carotenoid supplementation on plasma carotenoids, inflammation and visual development in preterm infants. J Perinatol, 2012; 32: 418-424
6Schaller JP, et al. Pediatr Res 2004;56:883-890.
7Pickering KL, et al. Pediatrics 1998;101:242-249.
8Yau KI, et al., J Pediatr Gastroenterol Nutr 2003;36(1):37-43.
*Compared to infants fed a formula without DHA and ARA and Lutein in a clinical trial with Similac Special Care and Similac Expert Care NeoSure infant formulas with iron.
†Based on a subset of infants in a post-hoc analysis
‡Visual acuity measured at 4 and 6 months corrected age and assessed by VEP (Visual Evoked Potential)
§Compared to term infant formulas
Keep learning about your baby's development every week
Get nutrition guidance and feeding help delivered right to your inbox.
Join Similac® StrongMoms® now.
Your Similac StrongMoms membership is free, and includes:
Expert nutrition guidance for your pregnancy
Weekly updates on how your baby is developing and growing
Up to $329† in membership benefits