Similac Expert Care® NeoSure®
Promotes catch-up growth during your premature baby's first 12 months
Your premature baby might have arrived early, but she's here now and it's an exciting time. At home or in the hospital, your voice, your touch, and your care mean the world to her.
Because she didn't get the full 9 months in the womb, her body is working hard to catch up. Help support her development in the first full year by feeding her Similac Expert Care NeoSure, the #1-selling baby formula for babies who were born prematurely.
Similac Expert Care NeoSure is the only preterm formula with added Lutein for eye and brain development.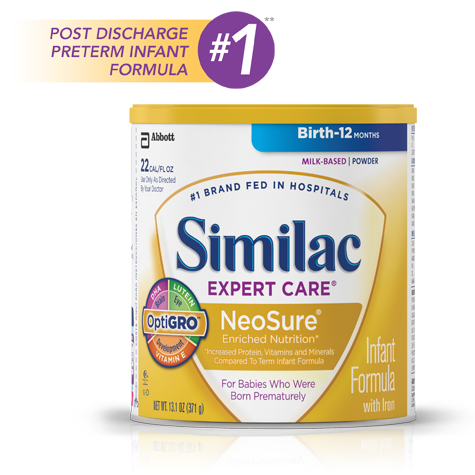 **Source: Nielsen data for years 2010, 2011 and 2012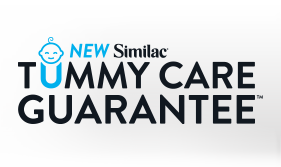 Parents know that every tiny tummy is unique.
So if your baby's tummy doesn't agree with a Similac product,
you can try another one FREE*
*Refund of purchase price (excluding taxes and shipping) on select products
only. Limit 2 refunds per household. Must redeem within 30 days of purchasing
alternative formula.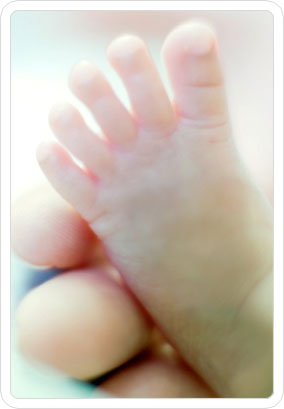 Specially formulated to support your preemie's development
We know that your premature baby needs special care in her first year — including specialized nutrition.
More research has been published on Similac Expert Care NeoSure than on any other nutrient-enriched, preterm, post-discharge formula.1-4 Studies have shown that premature babies fed Similac Expert Care NeoSure as compared to term infant formula for the first full year showed:
Excellent catch-up growth

1

Improved language development

*†

Improved visual development

*‡ 
UNIQUE NUTRITIONAL NEEDS OF PREMATURE AND LOW-BIRTH-WEIGHT INFANTS
Your Premature Baby Might Need:
Similac Expert Care NeoSure has:
Extra nutrients to help her catch up, as the 3rd trimester of pregnancy is the period of most rapid growth

35% more protein§ to support tissue building and growth


 

Higher amounts of vitamins, minerals, and calories than term infant formula to promote growth

Support for eye and brain development, as the majority of this growth takes place in the last eight weeks in the womb

Lutein and DHA for eye and brain development3,5

Immune support to help her immune system grow strong

Nucleotides for immune system support6-8

Nutrients for bone growth because most babies triple their bone density during the first year
Formula types
Powder formula
Just add powder formula to water and mix.
Catch-up Growth Inside and Out
Similac Expert Care NeoSure supports gains in weight, length, and head circumference when compared to term infant formulas.1* The specialized nutrition in NeoSure also helps growth in critical systems you can't see, including her lungs, heart, and digestive system.
1

Carver JD, Wu PY, Hall RT, et al. Pediatrics 2001;107:683-689.

2

Groh-Wargo S, Jacobs J, Auestad N, et al. Body composition in preterm infants who are fed long-chain polyunsaturated fatty acids: a prospective, randomized, controlled trial. Pediatr Res, 2005; 57: 712-718.

3

O'Connor DL, Hall R, Adamkin D et al. Growth and development in preterm infants fed long-chain polyunsaturated fatty acids: a prospective, randomized, controlled trial. Pediatrics, 2001; 108: 359-371.

4

Worrell LA, Thorp JW, Tucker R et al. The effects of the introduction of a high-nutrient transitional formula on growth and development of very-low-birth-weight infants. J Perinatol, 2002; 22: 112-119.

5

Rubin LP et al. Effect of carotenoid supplementation on plasma carotenoids, inflammation and visual development in preterm infants. J Perinatol, 2012; 32: 418-424

6

Schaller JP, et al. Pediatr Res 2004;56:883-890.

7

Pickering KL, et al. Pediatrics 1998;101:242-249.

8

Yau KI, et al., J Pediatr Gastroenterol Nutr 2003;36(1):37-43.

*

Compared to infants fed a formula without DHA and ARA and Lutein in a clinical trial with Similac Special Care and Similac Expert Care NeoSure infant formulas with iron.

†

Based on a subset of infants in a post-hoc analysis

‡

Visual acuity measured at 4 and 6 months corrected age and assessed by VEP (Visual Evoked Potential)

§

Compared to term infant formulas
Keep learning about your baby's development every week
Get nutrition guidance and feeding help delivered right to your inbox.  

Join Similac® StrongMoms® now.   

---
Rated

4.8

out of

5

 by

35

reviewers.
Rated

5

out of

5
 by
MirandasMama
So grateful
My daughter was born at 25 weeks and I am just so thankful that there is something made especially for her and other preemie babies like her to help her thrive. I love the premade bottles. They make night time feedings so much easier. Any preemie parent can tell you that the feeding schedule of a preemie can be exhausting but thanks to this formula and its convenient ready to use bottles, it really makes a difference!
November 16, 2015
Rated

5

out of

5
 by
Zacharysmom
Perfect for preemies
My son was 3 month early and once we brought him home the doctor put him on the NeoSure 22. He is developing as if he wasn't early at all, and he gained weight so fast. to imaging being 2lbs 10 oz and almost a year now weighing 14lbs its an amazing feeling. His tummy adjusted pretty quick to the formula from having donor breast milk at the hospital. so blessed to have this for my little tiny baby Thank you. I recommended this to all parents who went though the same thing and needs there little one to gain fast.
October 22, 2015
Rated

5

out of

5
 by
MJsMama
Lifesaver!
My little girl is 5 years old now but when she was a baby she was on Neosure ExpertCare. She was born 2 months early and spent 1½ months in the NICU and 3 weeks in the PICU before finally coming home for good. I tried and tried to pump but my milk never came in. It made her gassy but Neosure Expert Care saved my daughter's life!
October 10, 2015
Rated

5

out of

5
 by
Beabump
neosure
My baby needed to gain weight and gain weight very well in two months.
September 5, 2015
Rated

5

out of

5
 by
smcmahon2025
love it !
my 35 week twin boys are growing great, they were 5 lbs 14oz & 5 lbs 13oz at birth and the hospital had us making their formula 24 cal (55ml to 1 scoop) and our boys are now almost 9 lbs at 2 months,! price wise this is about average so its not bad considering it a specialty formula. thank you similac. highly recommended!
September 2, 2015
Rated

5

out of

5
 by
Twinmom121214
Love it!!
My 27 week preemies have been on neosure since the NICU. At their 6 month well check, they were already on the growth chart in all areas. My son has terrible reflux and my daughter has never had much of an appetite, but with Neosure, they are growing beautifully.
September 1, 2015
Rated

5

out of

5
 by
Christi
Preemie baby approved!!!
Due to complications during my pregnancy I had my baby at 25 weeks, she was never able to breast feed due to being so small and feeding/ventilator tubes. Thank goodness for similac neosure she was able to take it and had no problems!!! She is now almost a year old with no problems and its mostly due to neosure she never missed a meal and gained weight!!! I would and do recommend neosure!!!
August 31, 2015
Rated

5

out of

5
 by
LFleming
Great for My Preemie
This formula is excellent. I use it to supplement my preemie twins. It is easy on the tummy and is helping my babies grow!
August 31, 2015