Similac®
 

For Supplementation
For breastfeeding moms who choose to introduce formula
Similac For Supplementation is the first Similac formula designed for breastfeeding moms who choose to supplement. It has more prebiotics than any other Similac formula, along with the same benefits as Similac Advance. Some moms may notice changes in stool patterns when introducing formula to a breastfeeding routine, and studies have shown that prebiotics produce softer stools more like those of breastfed infants.
Create your dream registry list at WhatToExpect.com, where you can find Similac For Supplementation under the list of feeding favorites!
——

 

8 OUT OF 10 MOMS

 

——

who supplemented with formula agreed that it helped them continue to feed breast milk.*

*Abbott Nutrition, data on file 2013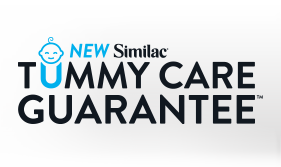 Parents know that every tiny tummy is unique.
So if your baby's tummy doesn't agree with a Similac product,
you can try another one FREE*
*Refund of purchase price (excluding taxes and shipping) on select products
only. Limit 2 refunds per household. Must redeem within 30 days of purchasing
alternative formula.


Similac now has OptiGRO™
OptiGRO is our unique blend of DHA, Lutein and Vitamin E; these important ingredients are found in breast milk.
DHA for brain and eye development

Lutein to support eye health

Vitamin E an important nutrient found in breast milk to support developing cells
OptiGRO is available in most Similac formulas.
Formula types
Powder formula
Just add powder formula to water and mix.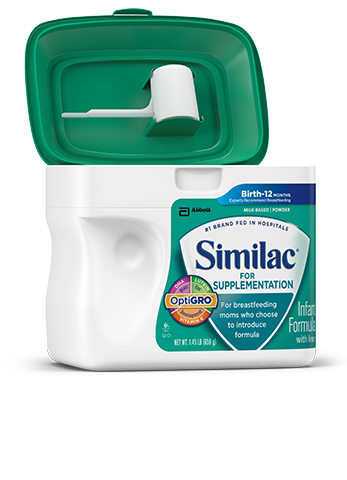 Available in the Similac
®

 SimplePac

®
Mom Preferred. Similac SimplePac. And chosen easier to use 3 to 1 over the Enfamil® refill tub.*
*
Formula Package Study 2010.

Feeding solutions

It takes time for a baby's digestive system to mature, so a fussy baby
doesn't have to mean switching formulas. 

Always talk to your pediatrician about feeding issues before making a switch.

Before switching, try these suggestions:

Use a different bottle or nipple.
Use a different burping position.
Adjust your body position.
Feed your baby less formula at each feeding while her digestive system grows.
Use liquid formula instead of powder.
Keep learning about your baby's development every week
Get nutrition guidance and feeding help delivered right to your inbox.  

Join Similac® StrongMoms® now.   

---
What to Expect® is a trademark of What to Expect, Inc.
Rated

5

out of

5

 by

5

reviewers.
Rated

5

out of

5
 by
Lauren1674
Helped so much!
I was reluctant to supplement, but one day my LO wouldn't stop crying for more milk! I found a sample of Similac Supplement and it saved us! I'm thinking of weaning her off the breast and switching to exclusive formula, so my question is if I should stick with the Supplement formula or switch to Advance?
July 29, 2015
Rated

5

out of

5
 by
MoCarleeH
Finally the Perfect Match
My daughter is 7 months old, and has been exclusively breast fed up until this point. We were hesitant at first to start giving her formula. After trying a few other brands, and Charlee refusing numerous bottles, we ended up doing our own at home taste test. My husband and I both agreed that the Similac Supplementation tasted the best! He said that he would even use it for himself if he ever had too! Once we narrowed it down we let our daughter try it, and she took right to it (and shes even sleeping longer at night! thank you Similac!) I would highly recommend this product to any breastfeeding mothers who are looking to supplement or start formula feeding.
July 9, 2015
Rated

5

out of

5
 by
KWilson
Excellent formula choice!
My son is four months old and has been using the Supplementation ready to feed since he came home from the hospital. At this point, he is eating 6 ounces at a time, so we go through the boxes of (8) 2 ounce bottles really quickly. He will only eat about 2 ounces if I try to use the supplementation powder, so I stick to the liquid. I have tried the Similac Advanced because it comes in larger sized bottles of ready to feed, but he doesn't like it either. This product is great and I would recommend it to any breastfeeding mom. What I don't like is that it can be difficult to find in stores and it doesn't come in larger sizes in the ready to feed. Is there a plan to offer it in the larger sized containers soon?
June 27, 2015
Rated

5

out of

5
 by
newdad8
amazing product
I am a new dad and my wife went back to work when our baby was still 6 weeks. Our baby just turned 2 months and his been using this product since he was 1 month with no problems. I am hoping for a guide, for the best amount of fl oz( formula)/ age or weight ratio? if there is any or as needed?
June 25, 2015
Rated

5

out of

5
 by
Momof2girls
This product has been great
I planned to exclusively breastfeed my daughter, but since I have gone back to work I have had to supplement with some formula. We got some samples from my doctor & first tried regular enfamil formula. This seemed to give my baby girl really bad gas & stomach ache..While at Target one day I picked up a can on Similac regular, as my older daughter was a similac (isomil) baby. She seemed to do a lot better on this but was still having bellyaches. We ended up only using 1/3 of the can before I found your supplementation formulas. This formula is great for my little girl! It has stopped all of the bellyaches and she seems content after eating. The only issue I've encountered is the packaging. I only use 3-4 bottles a week and the liquid is very expensive, but if I buy the powder, we never get through enough of it in the 1 month usage date. With this being a supplemental formula, I would suggest selling smaller cans so there isn't so much wasted. But overall I am very happy with this product & recommend it to all my breastfeeding friends who supplement at times.
June 17, 2015