Similac®
 

For Supplementation
For breastfeeding moms who choose to introduce formula
Similac For Supplementation is the first Similac formula designed for breastfeeding moms who choose to supplement. It has more prebiotics than any other Similac formula, along with the same benefits as Similac Advance. Some moms may notice changes in stool patterns when introducing formula to a breastfeeding routine, and studies have shown that prebiotics produce softer stools more like those of breastfed infants.
Create your dream registry list at WhatToExpect.com, where you can find Similac For Supplementation under the list of feeding favorites!
——

 

8 OUT OF 10 MOMS

 

——

who supplemented with formula agreed that it helped them continue to feed breast milk.*

*Abbott Nutrition, data on file 2013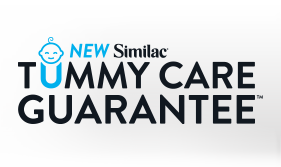 Parents know that every tiny tummy is unique.
So if your baby's tummy doesn't agree with a Similac product,
you can try another one FREE*
*Refund of purchase price (excluding taxes and shipping) on select products
only. Limit 2 refunds per household. Must redeem within 30 days of purchasing
alternative formula.


Similac now has OptiGRO™
OptiGRO is our unique blend of DHA, Lutein and Vitamin E; these important ingredients are found in breast milk.
DHA for brain and eye development

Lutein to support eye health

Vitamin E an important nutrient found in breast milk to support developing cells
OptiGRO is available in most Similac formulas.
Formula types
Powder formula
Just add powder formula to water and mix.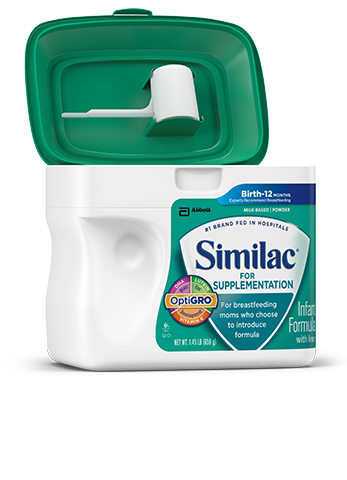 Available in the Similac
®

 SimplePac

®
Mom Preferred. Similac SimplePac. And chosen easier to use 3 to 1 over the Enfamil® refill tub.*
*
Formula Package Study 2010.

Feeding solutions

It takes time for a baby's digestive system to mature, so a fussy baby
doesn't have to mean switching formulas. 

Always talk to your pediatrician about feeding issues before making a switch.

Before switching, try these suggestions:

Use a different bottle or nipple.
Use a different burping position.
Adjust your body position.
Feed your baby less formula at each feeding while her digestive system grows.
Use liquid formula instead of powder.
Keep learning about your baby's development every week
Get nutrition guidance and feeding help delivered right to your inbox.  

Join Similac® StrongMoms® now.   

---
What to Expect® is a trademark of What to Expect, Inc.
Rated

4.8

out of

5

 by

150

reviewers.
Rated

5

out of

5
 by
KKmom
chose similac when I couldn't breastfeed
I am a first time mom who had a determination to breastfeed only! My daughter lost to much weight her first few days of life and it came down to trying formula or admitting her to the hospital. I researched and chose similac for supplementation. I could not be happier with my choice. My daughter is now a healthy happy thriving 9 month old who can not sit still. I am so thankful that there is a trusted brand like similac that I was able to lean on when it came to my daughters health. It was very reassuring that they offered one specifically for what we needed supplementation. My daughter and I love similac!
August 25, 2015
Rated

5

out of

5
life saver!
I had introduced formula to my son before and it broke my heart I didn't like what we used and t ended up making him very constipated. A few weeks to a month or so later a friend tried him on this formula at that point I felt like I can trust it and so I gave it a try because I was falling apart trying to keep up with his demand and all his heart break when he wasn't fully satisfied with how slow the flow of my milk went. This helped him get back on track and I feel safe and the best about using it it seemed a light was turned on inside my child he seems all around healthier and better. Thank you similac! :)
September 3, 2015
Rated

4

out of

5
 by
Ebscott918
Great start to formula
As a breastfeeding mother, I supplement with this formula. It was a nice start to formula because I really did not know which formula to choose and with this being my first child, I really did not know. My Dr offered no help when I asked about supplementing because of my schedule so when I saw this supplementation brand, I took a chance in hopes my baby stomach could handle and it did! I am giving this a 4 out of 5 because after about a month of using the formula, she had horrible gas but because she is no used to formula, I have switched to the orange fussy gas spit up can and so far so good!
September 2, 2015
Rated

5

out of

5
 by
aly1
Love it so much ...glad there is a breastfeeding geared formula
So glad there is a breastfeeding formula for supplementing.. has mad my little one happy for times I need to supplement... absolutely love it love the brand simlic my 1st choice .
September 1, 2015
Rated

5

out of

5
 by
Kimsw76
Excellent formula
I used this formula for five months to supplement breast feeding. It work very well and was easy for my baby to transition to. It also was a great help and relief to me to be able to supplement my nursing to make sure my baby was getting sufficient feedings. I would definitely recommend Similac for Supplementation to any mom considering supplementing breastfeeding.
September 1, 2015
Rated

5

out of

5
 by
Michelle24
Great Product
I was not producing enough breast milk to get my son full so I started feeding him this product as well. He does well with this product. I mix it half and half with my milk so that he get the best of both worlds. Thank you for making a great product.
September 1, 2015
Rated

5

out of

5
 by
Nis316
Great for BF babies
This is the only formula my daughter take in emergency situations. The ready to feed bottles are easy and convenient for on the go moms
August 31, 2015
Rated

5

out of

5
 by
Reebok
Great product
My breast milk production was not enough so we had to supplement. We used both the 2oz ready to go bottles and the powder. Easy to use and did not cause much discomfort at all.
August 30, 2015