Similac Sensitive®*
STAGE 1
Birth-12 Months

For fussiness and gas due to lactose sensitivity

Most babies are fussy and gassy at times. But, if your baby has more frequent fussiness and gas, it could be a sign that he might need another baby formula.
You can trust Similac Sensitive Stage 1 to provide a strong start for your baby's developing digestive system.
*Not for infants or children with galactosemia.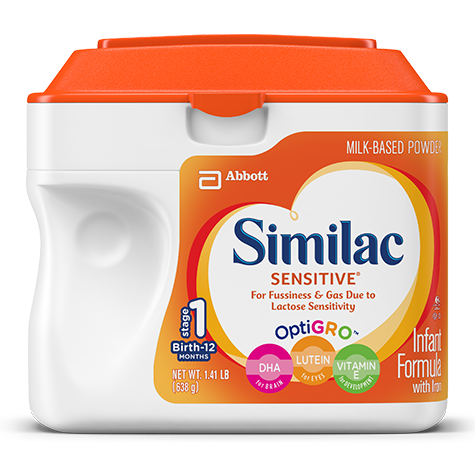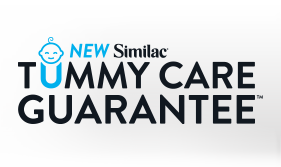 Parents know that every tiny tummy is unique.
So if your baby's tummy doesn't agree with a Similac product,
you can try another one FREE*
*Refund of purchase price (excluding taxes and shipping) on select products
only. Limit 2 refunds per household. Must redeem within 30 days of purchasing
alternative formula.


Similac has OptiGRO™
Similac is our unique OptiGRO blend of DHA, Lutein, and Vitamin E; these important ingredients are found in breast milk
DHA   An ingredient that supports brain development

Lutein   Found in areas of the brain related to learning and development

Vitamin E   An important nutrient to support developing cells
OptiGRO is available in most Similac formulas.
OptiGRO is getting a new look, too!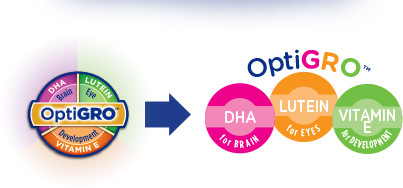 For fussiness and gas due to lactose sensitivity*
Similac Sensitive is a reduced lactose† formula. It has complete nutrition and is designed to help with lactose sensitivity. Plus, it has Lutein & DHA for your baby's developing eyes and brain.

If your baby is sensitive to lactose, try Similac Sensitive.
* Not intended for use by infants and children with galactosemia
†Typical Value 0.1 g/100 kcal compared to Similac Advance (11 g/100 kcal).

†
Total US infant formula all outlets as of 24 Aug 2013, Nielsen Data.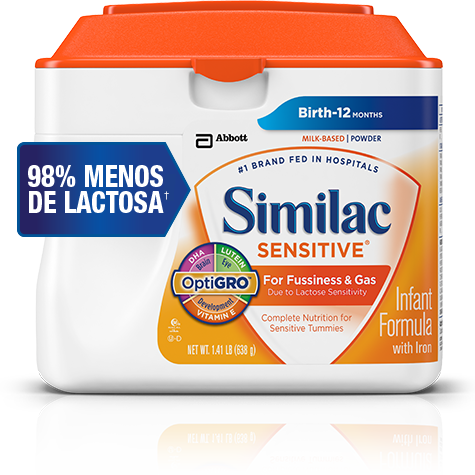 For Sensitive Tummies

Similac® For Spit-Up 
98% less lactose.* Added rice starch to help reduce spit-up in healthy infants, with reduced lactose for sensitive tummies† 
Learn More

Similac Total Comfort™ 
For discomfort due to persistent feeding issues.† 
Learn More

Similac® Soy Isomil® 
A soy-based formula for fussiness and gas. 
Learn More

*Typical Value 0.1 g/100 kcal compared to Similac Advance (11 g/100 kcal).

†

 Not intended for use by infants and children with galactosemia.

For Food Allergies

Similac Expert Care

®

 Alimentum

®

 

For food allergies and colic due to protein sensitivity. 

Learn More

Before switching, try these suggestions:

 

Use a different bottle or nipple.
Use a different burping position.
Adjust your body position.
Feed your baby less formula at each feeding while her digestive system grows.
Use liquid formula instead of powder.

 

Feeding solutions

It takes time for a baby's digestive system to mature, so a fussy baby doesn't have to mean switching formulas.

Always talk to your pediatrician about feeding issues before making a switch.
Formula types
Powder formula
Just add powder formula to water and mix.
Rated

4.7

out of

5

 by

422

reviewers.
Rated

5

out of

5
 by
Barettsmom
great fix
We ended up having to supplement early on in our son's new life. We received similac for supplementing and Barett would hiccup and burt up a good portion of what he ate along with having severe gas issues that caused him to sleep fitfully. We then tried other brands and different kinds of formula and we just couldn't get it figured out. We then decided to try the Sensitive and it seemed like a miracle cure! over night Barett was less gassy overall and his hiccups went away! We have no need to try any other brands as Similac Sensitive is a dream!
September 27, 2015
Rated

5

out of

5
 by
SweetMommie
Sensitive Tummy
My child had very bad gas, and this formula eased her tummy pain. She is able to keep it down with out puking it up and does not have nearly as much gas any more.
September 22, 2015
Rated

5

out of

5
 by
Mpatton82
Great for sensitive tummies
This is the only formula that works for our little guy. He has acid reflux and a sensitive tummy. This is the only formula he doesn't spit up a bunch of.
September 18, 2015
Rated

5

out of

5
 by
CorbinsMommy
Works wonderful with gassy babies
I received a sample of the sensitive and the original in the mail just before my due date. I had planned on breastfeeding the first year, but after several huge hurdles that I couldn't get over, I had to switch to formula for my little guy. I used the original sample and it seemed like he was ok, but when I used the sensitive one until I could get to the store (not so easy with an 8 week old), I noticed he had less tummy troubles, was less gassy, and seemed to digest it easier. So, needless to say, I stuck with this one and we've both been happy for the past 4 months.
September 13, 2015
Rated

5

out of

5
 by
Rannon22
Great for colic
We were using the Simalic Advance for a few weeks and my baby was very gassy, got the hiccups a lot, and became colicky. We switched him to the Sensitive and within days, he was a completely different baby. Love this!
September 13, 2015
Rated

5

out of

5
 by
Ford87
No more spit up
I started out using the regular formula and my daughter was having big burps and would spit up. The doctor suggested to try the fussy and gas formula that it might help. It worked. No more big burps and no more spit up.
September 9, 2015
Rated

5

out of

5
 by
MommyMichelle
Formula for a happy baby
We tried over a dozen different formulas for a fussy colicky little man. We tried every brand, every price range, even a prescription formula. Then we switched back to Similac Sensitive and his tummy problems slowly subsided. I would definitely recommend Similac brand product. They have a wide selection to fit all tummy needs.
September 9, 2015
Rated

5

out of

5
 by
kara29
easy on baby
similac seems to be what my baby girl enjoys. its easy on her tummy i switched to the sensitive type because of my babies fussiness and it seemed to do the trick and i had less spit-up do to this brand .im very pleased with it would recommend to anyone whos baby is lactose sensitive
September 6, 2015