Similac Sensitive®*
STAGE 1
Birth-12 Months

For fussiness and gas due to lactose sensitivity

Most babies are fussy and gassy at times. But, if your baby has more frequent fussiness and gas, it could be a sign that he might need another baby formula.
You can trust Similac Sensitive Stage 1 to provide a strong start for your baby's developing digestive system.
*Not for infants or children with galactosemia.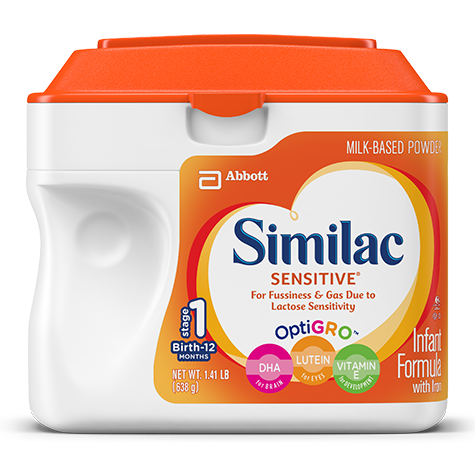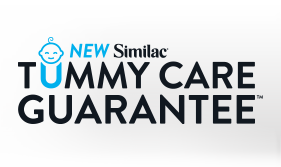 Parents know that every tiny tummy is unique.
So if your baby's tummy doesn't agree with a Similac product,
you can try another one FREE*
*Refund of purchase price (excluding taxes and shipping) on select products
only. Limit 2 refunds per household. Must redeem within 30 days of purchasing
alternative formula.


Similac has OptiGRO™
Similac is our unique OptiGRO blend of DHA, Lutein, and Vitamin E; these important ingredients are found in breast milk
DHA   An ingredient that supports brain development

Lutein   Found in areas of the brain related to learning and development

Vitamin E   An important nutrient to support developing cells
OptiGRO is available in most Similac formulas.
OptiGRO is getting a new look, too!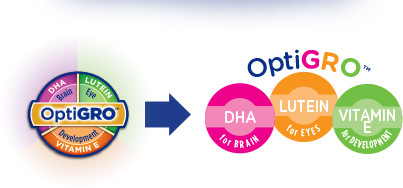 For fussiness and gas due to lactose sensitivity*
Similac Sensitive is a reduced lactose† formula. It has complete nutrition and is designed to help with lactose sensitivity. Plus, it has Lutein & DHA for your baby's developing eyes and brain.

If your baby is sensitive to lactose, try Similac Sensitive.
* Not intended for use by infants and children with galactosemia
†Typical Value 0.1 g/100 kcal compared to Similac Advance (11 g/100 kcal).

†
Total US infant formula all outlets as of 24 Aug 2013, Nielsen Data.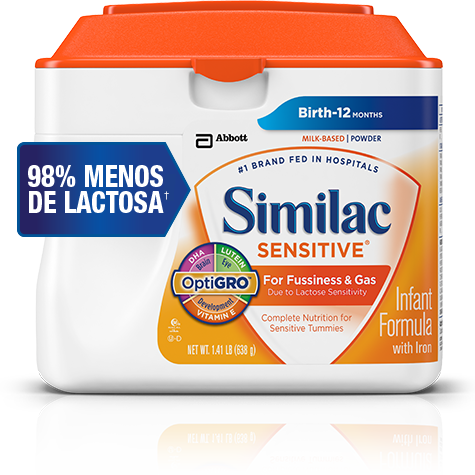 For Sensitive Tummies

Similac® For Spit-Up 
98% less lactose.* Added rice starch to help reduce spit-up in healthy infants, with reduced lactose for sensitive tummies† 
Learn More

Similac Total Comfort™ 
For discomfort due to persistent feeding issues.† 
Learn More

Similac® Soy Isomil® 
A soy-based formula for fussiness and gas. 
Learn More

*Typical Value 0.1 g/100 kcal compared to Similac Advance (11 g/100 kcal).

†

 Not intended for use by infants and children with galactosemia.

For Food Allergies

Similac Expert Care

®

 Alimentum

®

 

For food allergies and colic due to protein sensitivity. 

Learn More

Before switching, try these suggestions:

 

Use a different bottle or nipple.
Use a different burping position.
Adjust your body position.
Feed your baby less formula at each feeding while her digestive system grows.
Use liquid formula instead of powder.

 

Feeding solutions

It takes time for a baby's digestive system to mature, so a fussy baby doesn't have to mean switching formulas.

Always talk to your pediatrician about feeding issues before making a switch.
Formula types
Powder formula
Just add powder formula to water and mix.
Rated

4.7

out of

5

 by

358

reviewers.
Rated

5

out of

5
Love Similac!
Similac sent me some samples while I was pregnant, I tried breastfeeding but couldn't produce enough so I started supplementing with the formula I had received, we discovered Baby Clay had a sensitivity to lactose so we went to soy, we've slowly switched to sensitive tummy and I couldn't be happier. Similac formula has been there though it all and I always knew I could trust the product to fulfill my sons needs. I'll never use another brand!
August 27, 2015
Rated

4

out of

5
this product does work
I have not had any problems with this formula and it has a good taste. I have also notice that my baby is able to keep more down with less spitting up.
August 27, 2015
Rated

4

out of

5
Good value
The formula seems to work well for us as a supplement to breast milk. He takes the formula well and doesn't seem to mind. My only complaint is that it doesn't always dissolve as well as I would like when mixing with the water.
August 27, 2015
Rated

5

out of

5
Great for gassy babies
My son was super gassy and fussy, his stomach was Huge and hard from all the gas being held inside. Within days of using this product his stomach went down and he began to pass gas. He still passes plenty of gas mind you but it does not stay stuck in him hurting him! Great product for my boy!
August 27, 2015
Rated

1

out of

5
Not Well Satisfied
Formula and price are decent, however it is chalky, does not mix well with water and leaves clumps in the bottle if not shaken VERY VERY well...
August 27, 2015
Rated

5

out of

5
Satisfied
This is what my daughter was given in the hospital because I was unable to produce any. She successfully digested it there and at home. She didn't have any tummy or "tush" issues. I was completely satisfied and happy with how my sweet girl has grown!
August 27, 2015
Rated

5

out of

5
Works great
I went through several formulas with my infant before I learned about this product. I was told about this product by my sister who has a baby 6 weeks older than mine. I tried this after many failed attempts with my infant having trouble keeping formulas down. So as soon as I tried this formula that was the last of vomiting for my baby. It did not irritate her stomach or give any problems like the others did. Thank you.
August 27, 2015
Rated

5

out of

5
My baby loves this!
I tried giving my little one other types of formula before, but nothing won her like this Similac Sensitive. Her tummy is a bit picky, so it was tough finding a formula that she liked much less keep down. This product worked like magic and it's perfect for my baby's sensitive tummy. I highly recommend this!
August 27, 2015