Similac Sensitive®*
STAGE 1
Birth-12 Months

For fussiness and gas due to lactose sensitivity

Most babies are fussy and gassy at times. But, if your baby has more frequent fussiness and gas, it could be a sign that he might need another baby formula.
You can trust Similac Sensitive Stage 1 to provide a strong start for your baby's developing digestive system.
*Not for infants or children with galactosemia.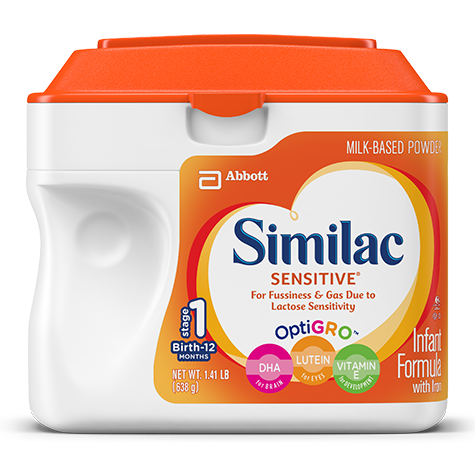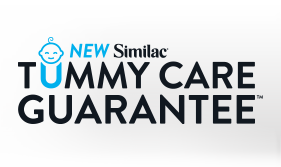 Parents know that every tiny tummy is unique.
So if your baby's tummy doesn't agree with a Similac product,
you can try another one FREE*
*Refund of purchase price (excluding taxes and shipping) on select products
only. Limit 2 refunds per household. Must redeem within 30 days of purchasing
alternative formula.


Similac has OptiGRO™
Similac is our unique OptiGRO blend of DHA, Lutein, and Vitamin E; these important ingredients are found in breast milk
DHA   An ingredient that supports brain development

Lutein   Found in areas of the brain related to learning and development

Vitamin E   An important nutrient to support developing cells
OptiGRO is available in most Similac formulas.
OptiGRO is getting a new look, too!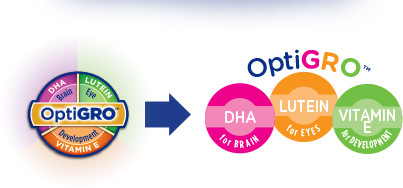 For fussiness and gas due to lactose sensitivity*
Similac Sensitive is a reduced lactose† formula. It has complete nutrition and is designed to help with lactose sensitivity. Plus, it has Lutein & DHA for your baby's developing eyes and brain.

If your baby is sensitive to lactose, try Similac Sensitive.
* Not intended for use by infants and children with galactosemia
†Typical Value 0.1 g/100 kcal compared to Similac Advance (11 g/100 kcal).

†
Total US infant formula all outlets as of 24 Aug 2013, Nielsen Data.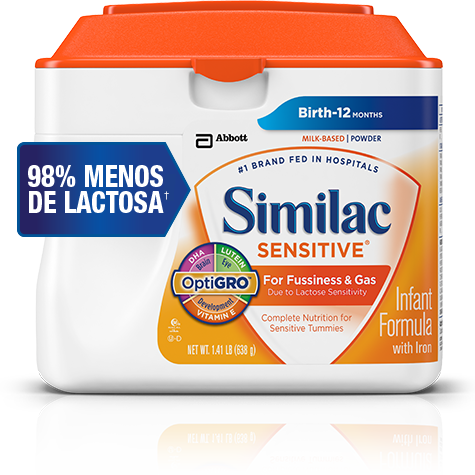 For Sensitive Tummies

Similac® For Spit-Up 
98% less lactose.* Added rice starch to help reduce spit-up in healthy infants, with reduced lactose for sensitive tummies† 
Learn More

Similac Total Comfort™ 
For discomfort due to persistent feeding issues.† 
Learn More

Similac® Soy Isomil® 
A soy-based formula for fussiness and gas. 
Learn More

*Typical Value 0.1 g/100 kcal compared to Similac Advance (11 g/100 kcal).

†

 Not intended for use by infants and children with galactosemia.

For Food Allergies

Similac Expert Care

®

 Alimentum

®

 

For food allergies and colic due to protein sensitivity. 

Learn More

Before switching, try these suggestions:

 

Use a different bottle or nipple.
Use a different burping position.
Adjust your body position.
Feed your baby less formula at each feeding while her digestive system grows.
Use liquid formula instead of powder.

 

Feeding solutions

It takes time for a baby's digestive system to mature, so a fussy baby doesn't have to mean switching formulas.

Always talk to your pediatrician about feeding issues before making a switch.
Formula types
Powder formula
Just add powder formula to water and mix.
Rated

4.7

out of

5

 by

435

reviewers.
Rated

5

out of

5
 by
NatalieW
Breastfeeding
This is the best substitute when transitioning from breastfeeding to formula. I have tried other brands in the beginning but after speaking to the her pediatrician he suggested I try this particular product and I've never looked back. She just turned 1 and still loves it..
November 18, 2015
Rated

5

out of

5
 by
JenPet
Happy with Similac
We started using Similac Sensitive based on a friends recommendation and things have been going well. Our little one is 6 weeks old and at her recent check up she got a clean bill of health. I told the pediatrician we are using Similac even though it is a more expensive brand and he agreed to stick with it and even was nice enough to give us samples. I am questioning if we should try Similac Total Comfort as she still spits up and seems fussy due to gas. As a first time mom it is hard to know what is normal and what would be cause to try something new. My only complaint about Similac is that it seems your competitors send out a lot more coupons. I even bought three containers of Similac at a big name store the other day and what coupon printed out for me...Enfamil. I occasionally get the $5 off coupons from you but other than that coupons are hard to come by. That makes it challenging when you see other brand offering a discount or more coupons. Overall we are very happy with Similac.
November 18, 2015
Rated

4

out of

5
 by
FirstTimeMom15
Lactose Sensitive Baby
I am a breastfeeding Mom using formula to supplement. We started using the Similac for breastfeeding mommies...but my Son started pooping several times a day. Concerned, our Pediatrician recommended Similac sensitive and it stopped almost immediately! Turns out my Son was having difficulty with the lactose. We were pleased with the results of Similac sensitive and recommend this formula for parents in a similar scenario. It is pricey, however, and rarely "on sale." I'm pleased to have discovered this site to possibly get coupons to assist with the weekly costs.
November 15, 2015
Rated

5

out of

5
 by
MEGandBOYS
Thankful for Similac Sensitive
When my first son was born 6 years ago we tried multiple formulas before we found Similac Sensitive (RS). It was a lifesaver! He no longer was having terrible tummy pains or excessive spit up. When I had my second son 8 weeks ago I knew I wanted to start him on Similac Sensitive. The nurse asked for us to try Similac Advance first. We did and within 24 hours he had spit up more than normal. At that point we switched him to Similac Sensitive and we haven't had a problem. I highly recommend this for ALL babies. Thank you Similac for giving my baby boys happy tummies.
November 11, 2015
Rated

2

out of

5
 by
BBaby
This didn"t work for my son.
This formula constipated my son terribly. He wouldn't have a bm for a day or to only to painfully pass a hard pebbly bm. We had much better success with the Discomfort.
November 11, 2015
Rated

5

out of

5
 by
Chelita
Wounderful
Helps my baby bowl better without any troble or pain. She looks happier and relax. Texture is better than other brands.
November 9, 2015
Rated

4

out of

5
 by
cisn650
great features
My daughter been drinking this formula for 2 months now and just having pooping problem she was pooping two times a day to pooping every 3-4 days. Ever wise she happy with this formula.
November 5, 2015
Rated

5

out of

5
 by
HenryHappyMummy
Happy Baby Happy Mummy
We have finally found a formula that doesn't give him round poops or bad indigestion. He is able to eat regularly and I know he won't scream with belly pains after. This mixture has been amazing and I am so excited that they now have this with non-gmo ingredients. I hope they find a healthy alternative to the corn syrup though.
October 30, 2015