Similac
®

 Soy Isomil

®
Complete nutrition for sensitive tummies
Comfort your baby's fussiness and gas with Similac Soy Isomil — specially designed with the gentleness of soy to soothe the tummy.
Some issues, such as fussiness and gas, are a common part of feeding your baby. However, if these common feeding issues continue, ask your physician about switching to Similac Soy Isomil.
Soy-based formulas such as Similac Soy Isomil have been clinically shown to help reduce these feeding problems. And no other soy-based formula has been studied more than Isomil®.
Soy formulas are not recommended for premature infants with birth weights of less than 1800 g.

†
Total US infant formula all outlets as of 24 Aug 2013, Nielsen Data.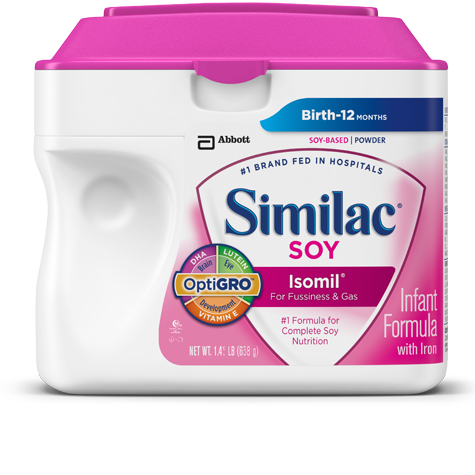 Formula types
Powder formula
Just add powder formula to water and mix.