Similac
®

 Soy Isomil

®
Complete nutrition for sensitive tummies
Comfort your baby's fussiness and gas with Similac Soy Isomil — specially designed with the gentleness of soy to soothe the tummy.
Some issues, such as fussiness and gas, are a common part of feeding your baby. However, if these common feeding issues continue, ask your physician about switching to Similac Soy Isomil.
Soy-based formulas such as Similac Soy Isomil have been clinically shown to help reduce these feeding problems. And no other soy-based formula has been studied more than Isomil®.
Soy formulas are not recommended for premature infants with birth weights of less than 1800 g.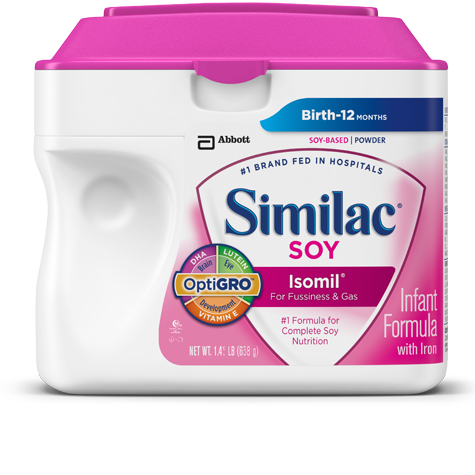 Similac Sensitive in Stages  
Similac makes it easier to keep up with the exciting changes in your infant's growth and development with Similac Sensitive in Stages.



Similac Sensitive Stage 1
is designed to provide complete
nutrition for babies with fussiness
and gas due to lactose sensitivity




Similac Sensitive Stage 2
is designed to support your baby's
continued growth and development during this
important time when solid foods are
introduced

Similac now has OptiGRO™
OptiGRO is our unique blend of DHA, Lutein and Vitamin E; these important ingredients are found in breast milk.
DHA for brain and eye development

Lutein to support eye health

Vitamin E an important nutrient found in breast milk to support developing cells
OptiGRO is available in most Similac formulas.
Formula types
Powder formula
Just add powder formula to water and mix.