Similac Total Comfort™
For discomfort due to persistent feeding issues
If your baby is experiencing discomfort due to persistent feeding issues, Similac Total Comfort may help. It has partially broken-down protein for easy digestion. Plus, it has added Lutein and DHA to help your baby's developing eyes and brain.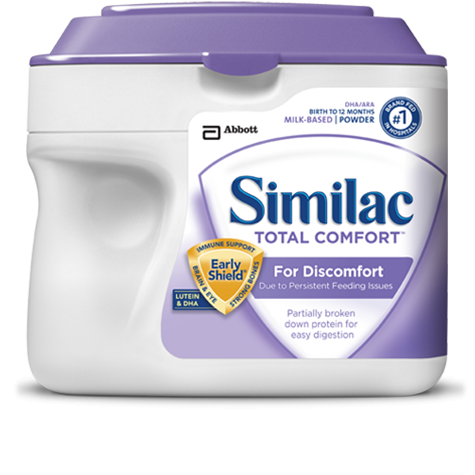 Available now at the following retailers:
Kroger
Target
Babies "R" Us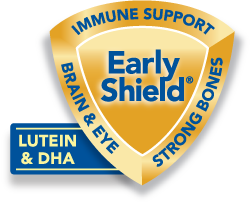 Similac® has EarlyShield®
In addition to having DHA/ARA, Similac has Lutein, an important nutrient babies can get from breast milk and Similac. It's especially helpful now, during this critical time of your baby's brain and eye development.
Formula types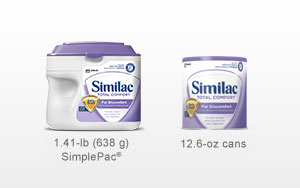 Powder formula
Just add powder formula to water and mix.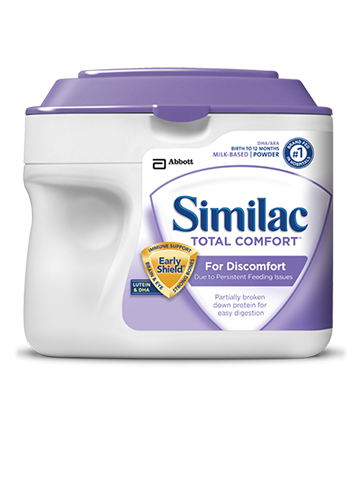 Available in the Similac® SimplePac®
Mom Preferred. Similac SimplePac. And chosen easier to use 3 to 1 over the Enfamil® refill tub.*
*Formula Package Study 2010.
Feeding solutions
It takes time for a baby's digestive system to mature, so a fussy baby doesn't have to mean switching formulas.
Always talk to your pediatrician about feeding issues before making a switch.
Before switching, try these suggestions:
Use a different bottle or nipple.
Use a different burping position.
Adjust your body position.
Feed your baby less formula at each feeding while her digestive system grows.
Use liquid formula instead of powder.
Have more feeding questions?
Go to Feeding Expert
Keep learning about your baby's development every week
Get nutrition guidance and feeding help delivered right to your inbox.
Join Similac® StrongMoms® now.
Your Similac StrongMoms membership is free, and includes:
Expert nutrition guidance for your pregnancy
Weekly updates on how your baby is developing and growing
Up to $329† in membership benefits