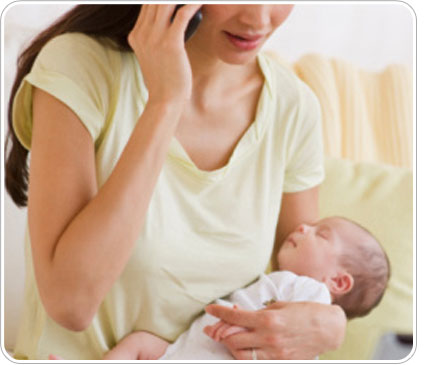 Prenatal and infant nutrition help when you need it
Proper nutrition is always important — especially when you're pregnant. That's why Similac® has feeding experts available to answer your prenatal nutrition questions. And when your baby arrives, our nurses and lactation consultants* are ready to give you live nutritional support with your baby's feeding questions.

Questions and answers

When should I call Feeding Expert?
Call 800-986-8800 if you have questions like:
Prenatal Nutrition
Is it true I should be eating for two?
Is it safe to eat lunch meats during pregnancy?
Can eating too much fruit cause gestational diabetes?
Feeding Concerns
My baby always gets fussy after feeding. Am I feeding him too much?
My baby spits up every time I feed her. Is this normal?
He keeps crying and crying. What can I do to help?
Who will answer when I call Feeding Expert?
Someone from the Feeding Expert team will answer your call. This initial contact will be able to answer the majority of your questions. Nurses and dietitians also will be available to talk with you. If they all are busy when you call, a qualified expert will get back with you as soon as possible.
If you have questions related to breastfeeding, a lactation consultant will be available to help you. Lactation consultants are provided by a third party.

Se habla español.

Have more questions? Find the answers you need here.

Remember:

 
Always contact your health care provider in an emergency or medical situation.
 

Feeding Expert shouldn't replace conversations with your physician.
The Feeding Expert call center is only available to callers in the U.S.
*Lactation consultants are provided by a third party.
Keep learning about your baby's development every week
Get nutrition guidance and feeding help delivered right to your inbox.
Join Similac® StrongMoms® now.
---