Similac Stages
Similac now comes in Stages, nutrition for baby's first two years, which are designed to keep up with the changing needs of your baby's growth and development:

Similac now has OptiGRO™
OptiGRO is our exclusive blend of DHA, Lutein and Vitamin E; these important ingredients are found in breast milk.
DHA for brain and eye development

Lutein to support eye health

Vitamin E an important nutrient found in breast milk to support developing cells
OptiGRO will be available in most Similac formulas.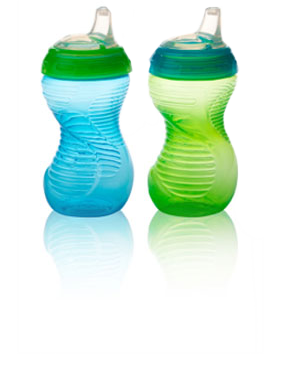 Time for table food? Help bridge the nutritional gaps
Transitioning to table food is an exciting time for your baby ... and her taste buds. But you'll quickly find out what she likes and dislikes. In fact, what she doesn't like will probably end up everywhere but in her belly. Don't worry. An 8-fl-oz sippy cup of Similac Go & Grow baby formula has:
More than 25 vitamins and minerals your baby needs to help stay strong and healthy
At least 30% of the recommended Daily Value of calcium, iron, vitamin C, and vitamin E
DHA/ARA to help support your baby's brain and eye development
Lutein: to support eye health
Similac Go & Grow — a complement to table food and milk
Food
Percent of Daily Values† per Serving‡
DHA/ARA
Iron
Calcium
Vitamin E
Cow's Milk (whole) (8 fl oz)
1%
35%
2%
Applesauce (6 oz)
4%
1%
15%
Macaroni and Cheese (1/2 cup)
3%
7%
0%
Chicken Sticks (approximately 1/3 cup)
11%
7%
4%
Banana (4 oz)
3%
1%
2%
Similac Go & Grow
Milk-Based Formula (8 fl oz)
32%
30%
48%
Formula types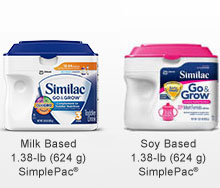 Powder formula
Just add powder formula to water and mix.
Simple smoothies with Go & Grow
Keeping your older baby's diet nutritious is an important job, and making it exciting can be tough. Making a simple smoothie with Similac Go & Grow is an easy way to introduce your baby to new tastes and textures while giving her the nutrition she needs.
Just blend 8 fl oz of prepared Similac Go & Grow with fresh or frozen fruit, such as bananas, apples, peaches, or strawberries.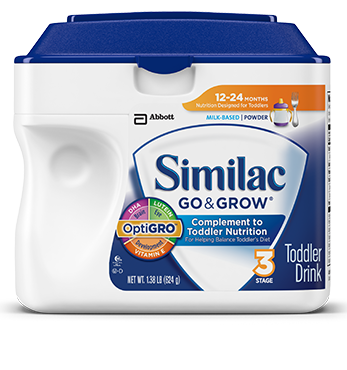 Available in the Similac® SimplePac®
Mom Preferred. Similac SimplePac. And chosen easier to use 3 to 1 over the Enfamil® refill tub.*
*Formula Package Study 2010.
†Based on Daily Values recommended by FDA for children 1 to 4 years of age
‡USDA National Nutrient Database for Standard Reference, Release 19 (2006).
Available at http://www.nal.usda.gov/fnic/foodcomp/search. Accessed 04/13/07.
Keep learning about your baby's development every week
Get nutrition guidance and feeding help delivered right to your inbox.
Join Similac® StrongMoms® now.
Your Similac StrongMoms membership is free, and includes:
Expert nutrition guidance for your pregnancy
Weekly updates on how your baby is developing and growing
Up to $329† in membership benefits