Drag to read about a different week.
The final countdown: Say hello to your third trimester!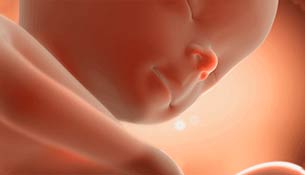 Your baby's development
Sizing up the situation: your baby's eyes open.
Welcome to week 28 – the beginning of your third trimester and the final stage of your pregnancy. Here's what's happening with your baby's development:
He wants to see what's going on in his environment and might open his eyes in utero.
Approximately 10 inches long, he's about the length of a zucchini and weighs about 2 pounds.
His brain continues to develop and grow in size.
More fat accumulates under his skin.
He takes routine 20- to 30-minute naps.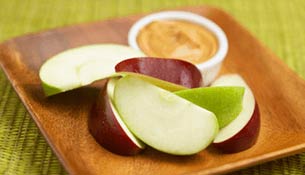 Your nutrition and health
Power snacks to keep you energized.
As you continue to take care of yourself and your body, pack some power into your snacks with these nutrient- and
energy-rich snack options:
½ cup of fresh vegetables with ¼ cup hummus
1 oz low-fat cheese and ½ cup fruit (or 1 piece)
4 oz of low-fat cottage cheese and ½ cup of fruit (or 1 piece)
4 oz of low-fat yogurt and ½ cup of fruit (or 1 piece)
½ oz of roasted nuts
1 Tbsp of peanut butter and one small apple
Nutrition bars for when you're on the go, such as ZonePerfect® Bars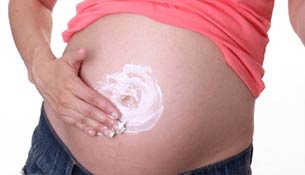 Things to think about now
The truth about stretch marks.
Will they stay or will they go? That is the question. The truth is, whether or not you get stretch marks has more to do with heredity than any other factor.

The appearance of stretch marks does not mean that you're gaining too much weight – as they can appear on the slimmest of pregnant women! After your baby is born, your stretch marks may fade to light pink or white, but they may or may not disappear completely.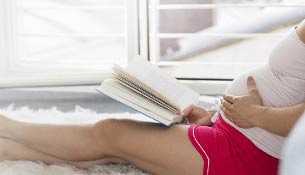 What happens next week
Almost fully grown, your baby's filling out.
Your baby might be within 3 inches of her birth length, but will spend the next 11 weeks doubling or almost tripling her current weight.